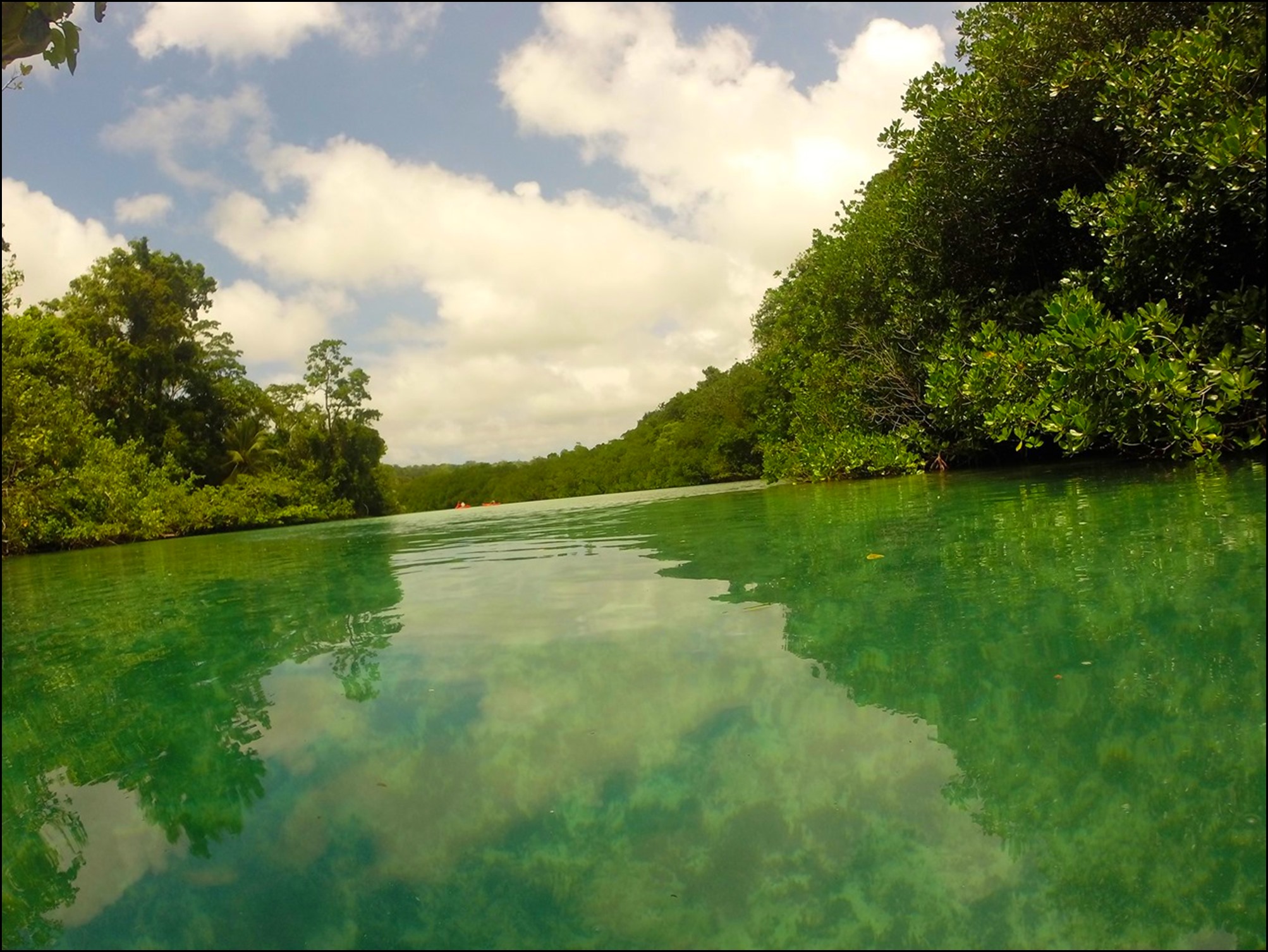 Esprito Santo is the largest island of the archipelago of Vanuatu. From Ambrym and after a one night stop in a bay on Malekula island, we sailed up the Segond channel and grabbed a mooring off the Aore Resort. Russel's mum and dad arrived the following day and settled into the resort…. So lovely to have visitors!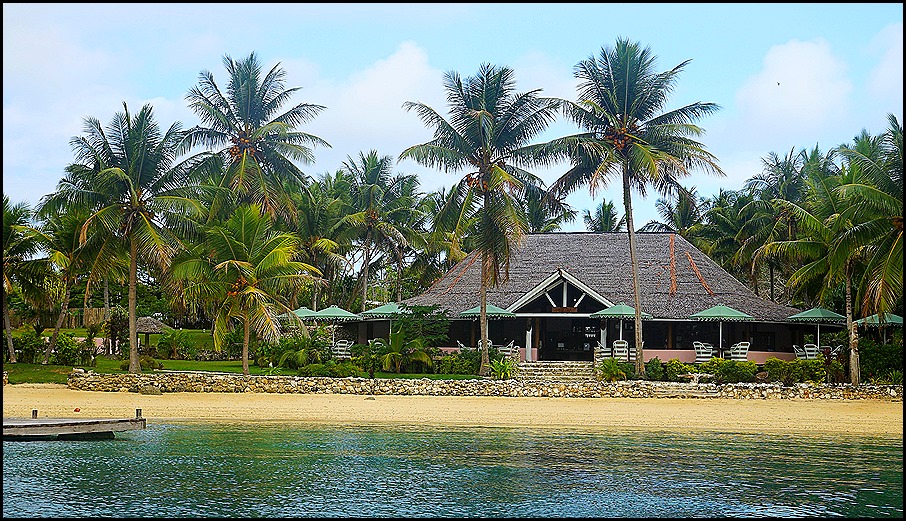 Above and below; Catching up with Ralph/Yvonne/mum/dad/granny and papa! at Aore resort, Esprito Santo.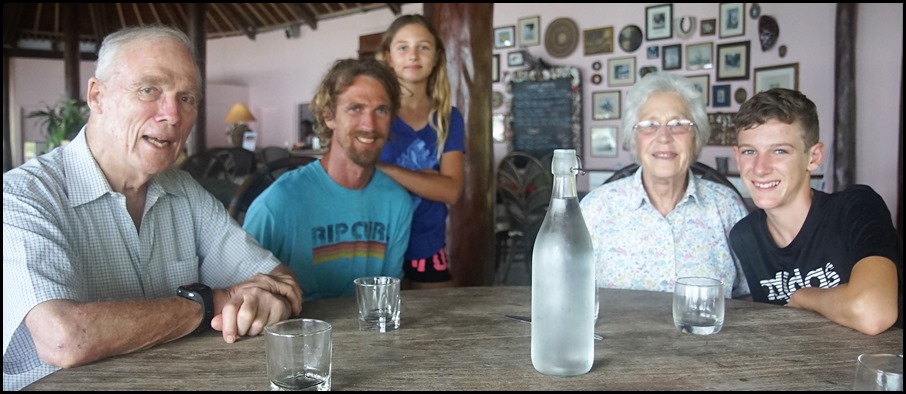 Below left; after a day sail to the east side of Santo, we took a dinghy trip up a mangrove-lined river to the 'Blue Holes;' a sparkling, natural, fresh water swimming pool. The basin itself was gorgeous but the dinghy trip was the highlight! Emerald green water flanked by chunky mangroves perched high atop roots as if on tippy toes trying not to get wet feet… 
Below middle; we attended a cultural performance or 'kastom singsing' by people from the remote Banks Islands- a bamboo band and the unique, women's 'water music.' This little boy in traditional dress travels with his family who are touring musicians…
The ancient art of water music hails from the far flung northern islands of Vanuatu and has spread all the way to the Solomon. The water women and children use the water surface as a percussion ensemble by splashing, scooping and slapping to form an intoxicating,  rhythmic accompaniment to their energetic and joyful harmonies.  Apparently the music has always been promoted by the women as a 'game' without any ritualistic qualities and therefore is not subjected to 'tabu' (taboo) which means the women are actually allowed to do it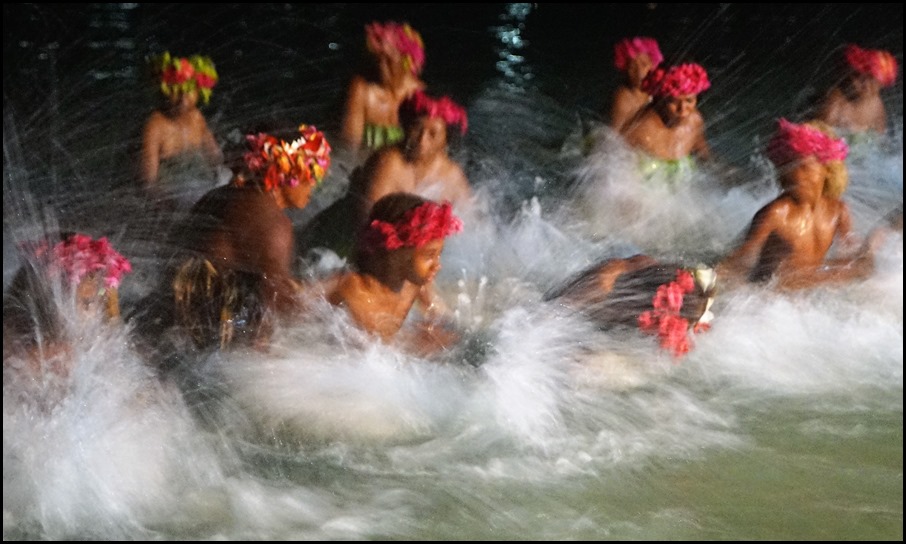 Apart from the explosion of colour from fresh hibiscus wreaths, the most striking thing about the water drumming performance was the sense of energy and festivity that emanated from the women and girls. Despite playing in front of an audience of camera-wielding-resort-staying-tourists, they just looked like they were having fun with their friends, daughters, mothers and aunts. Occasionally, while chanting and 'drumming' the younger girls, singing at the tops of their voices would splash each other with cheeky grins….. The scope of notes that were reached through the surging, spraying water was quite amazing…. (watch the video at the bottom to hear it..)
Above left;  the welcome ceremony.
Above right and below; also from the Banks Islands, a lively and sizable bamboo band played and sang for us late into the evening…. Traditional music (with the occasional gospel chorus) with dynamic bamboo flutes, slit gongs, idophones, punchy tunes and spirited singing. The group seemed drunk on the collective energy and vibes of the music and by the end of the night they had most of us whities up dancing to the drumbeat…

Above right; we grew to love the delightful Bislama language and learnt that it wasn't at all hard to translate. There are 113 distinct languages in Vanuatu and due to inter island and inter village trading and marriages, many ni-Vanutau speak 2 or more languages. The name Bislama came from the word bech-der-mer meaning 'sea cucumber' after the sea cucumber traders who developed a form of pidgin English throughout the Pacific. It was a hybrid 'lingua franca' language; an infusion of simplified, phonetic English, Spanish and French with local colloquialisms thrown in. The sign above means it is forbidden (Tabu- Taboo) to swim in this place (ples)
A persons son or daughter would be introduced to us as a 'child that belongs to me'  Pikinini blong mi (pikinini is child and blong is belong- so ) Belong- (blong)  is often abbreviated to blow or blo so Blong Mi (Blo Me!) = mine. A bird (any bird) is pidgin and pidgin blong solwota = bird belonging to the saltwater, eg tern, pelican, duck etc.
And Pidjin blong bus = all birds belonging to the bush.
A spear gun is a musket, a bra is basket blong titi (!) a turtle= totel and excuse me= Skiusmi. Bigfala trak = big fella truck (large truck) Smol trak = small car and Bigfala naif= machete…
Bislama makes me smile….
Magic family moments above and below…Jaiya getting some piano tips from granny.. and Ralph and Yvonne hanging out after coffee in Tika's cockpit….meals ashore and the bright lights of Luganville across the channel from Tika sitting in Aore island.
Above right; a large school of yellowstripe scad hanging out under the jetty at the resort…
Below; we got to explore the aftermath of some World War 2 madness at Million Dollar Point where hundreds of military vehicles, equipment and crates and crates of coca cola were dumped into the sea after the Americans left Vanuatu where they had been stationed to launch attacks on the Japanese.
The amount of equipment amassed over the years of conflict was huge and America offered to sell the lot to the British and French who, between them controlled Vanuatu (then called the New Hebrides) The offer was a good one and the price asked was rock bottom but the French and British refused thinking that they would inherit the goods for free if they sat tight. In an epic backfire, the French and British missed out all together because the Americans, out of spite, drove it all into the sea off a point just north of Luganville. Back then, the equipment was valued at a million US dollars and so 'Million Dollar Point' was created. There are some cool stories of locals (and one entrepreneurial kiwi) salvaging items, but mostly, they are still there, forming a bizarre but fascinating artificial reef to snorkel or dive on. I imagine how bewildered the locals must have been witnessing such waste and, no doubt, significant environment damage. 
Bulldozers, boats, forklifts and a big stack of jeeps jut out of the seabed and looming shapes of wheels, cranes and other mechanisms can be sighted in the gloom as the shallows plummet into the depths of the channel….The beach is lined with seaglass and many still have sand-smoothed coca cola logos and stamps from Oakland, California and Seattle, Washington….
Below; mangrove lined rivers.. In Australia they would be croc-infested but (apart from the occasional, aggressive bull-shark) Vanuatu has no poisonous or dangerous creatures…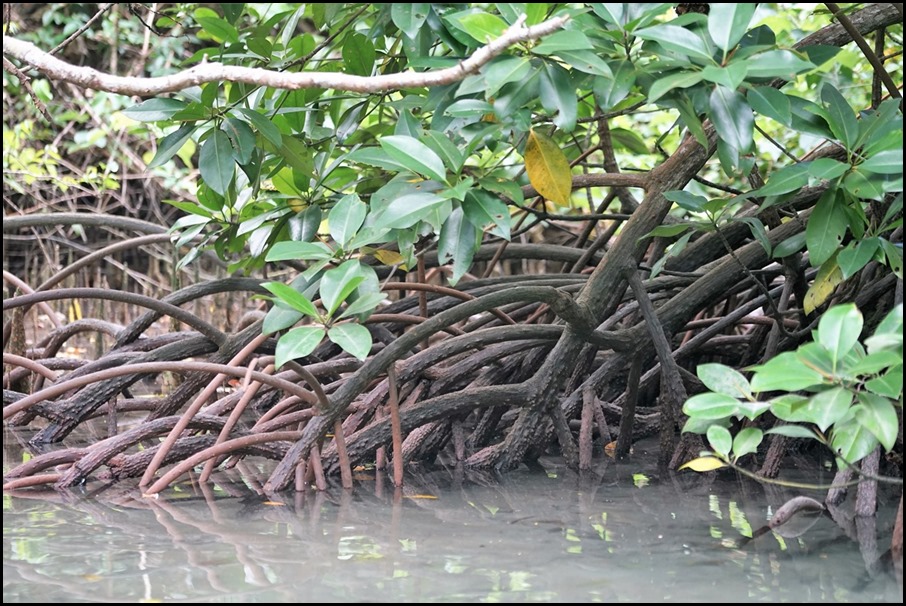 Above; a beautiful cuttlefish spotted off Ratua Island. We watched, fascinated as she effortlessly glided along with her lazy eye and frilly underside. She had a remarkable ability to alter her skin color and pattern and could perfectly camouflage herself against the reef, sand or even the blue of the sea.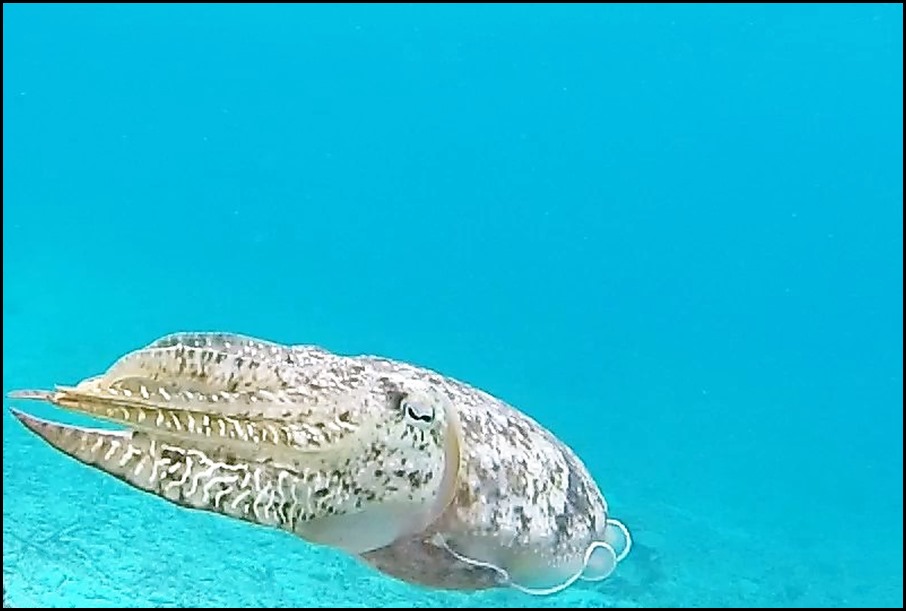 Above; dinghy trips with Granny and Papa. After one trip, poor Ralph felt unwell and by the time we got him back to the boat he had a fever, a red and swollen foot and his glands were up. After a few hours with no improvement we decided to get him to a doctor. We had been out for a day sail so first we needed to get to an anchorage that had road access on the mainland (Santo) Poor papa then had get off the boat, in and out of the dinghy and into a waiting taxi. We had some help from some neighboring yachties who happened to hail from a town about 20 minutes from Yvonne and Ralph!
Russ and Yvonne took Ralph to a clinic where they met a fantastic young Aussie doctor who took him in, diagnosed an infection causing cellulitis and put him straight on IV antibiotics. He spent two nights in the clinic on an I.V but, after scary talk of a medical evacuation to Australia, he bounced back quickly and went on to enjoy the rest of his holiday. We weren't quite as adventurous after that but we did get to enjoy some quality time playing cards and monopoly, chatting over coffee in Tika's cockpit and sharing meals at the resort while Ralph put his foot up. It was great to spend time with these two intrepid travelers and we all admire their tenacity and courage continuing to travel and meet us in exotic locations! They are busy planning their next trip

Below left and right; Kai and Jaiya spent a majority of their time in Vanuatu swinging on ropes or vines….
Above middle; I have been trying to catch the perfect portrait of an anemonefish. This one is getting there!
Above left, right and below left; snorkelling off Ratua Island- Christmas worms, a vibrant blue-lipped clam and an anemone complete with anemonefish.
Above middle and below; Jaiya and I took off for a thoroughly enjoyable morning horse riding. We took the horses under canopies of shady banyan trees, along beaches, through mangrove creeks and unto a deep swimming hole. I was impressed how the horses managed to avoid the minefield of large crab holes- even when they were covered by leaves on the forest floor. Jaiya was in heaven.
Below left; the mangrove creek walk on horse-back was pretty magical..
Below right; I love this species of plate or mushroom coral. You can pick them up as they are not attached to the reef or seabed. The delicate ribs or tiny spines are often pink tinged and so fine!
Kai and Russ both got their SCUBA certification in Santo…It seemed appropriate to book in the world-famous SS President Coolidge wreck dive for Kai's first dip as a qualified open-water diver (ONLY a 35m dive!)
SS President Coolidge was an American luxury ocean liner that also served as a troop carrier from 1941 until 1942 when she was sunk by friendly mines just off the coast of Esprito Santo. After the initial explosion the captain ran her up against a reef so that the troops could disembark (below). One was killed in the initial blast and one other went down with the ship but 5340 climbed to safety before the Coolidge listed and sunk into the channel….
Above left; Russ and Kai get a  briefing on the way to the dive site. SS President Coolidge's bow now sits at 21m and her stern at 73m. She is a protected dive and so many artifacts including a dental chair, medical kit, guns (rifles, 20mm anti aircraft cannons, tomtom cannons, Howitzers…) cooking equipment (including a pot with US 1940 engraved on the lid) and even statues in the dining hall (from her ocean liner days) and Willy's Jeeps can still be viewed.
Above right; Kai and Russel with rifles.
Below right; a World War 2 gas mask.
Below; Kai, Russ and their guide entering the hull of the Coolidge…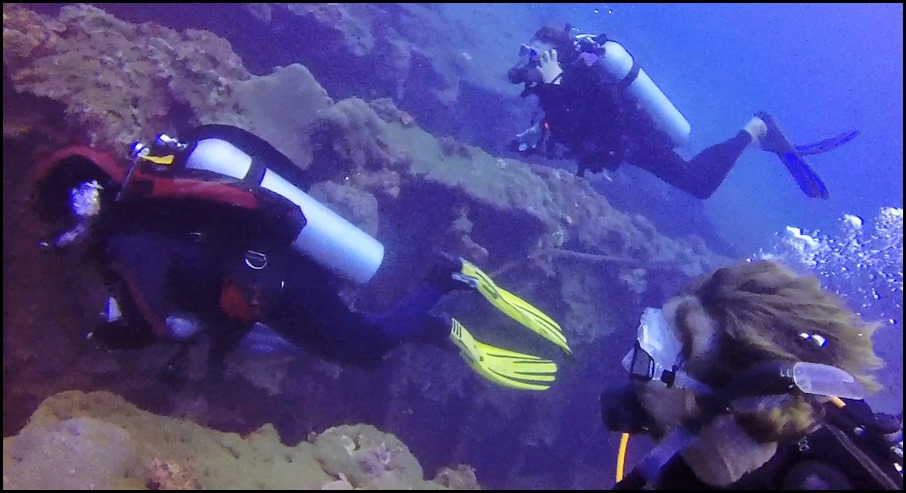 Below; a red whip soft coral off Ratua Island.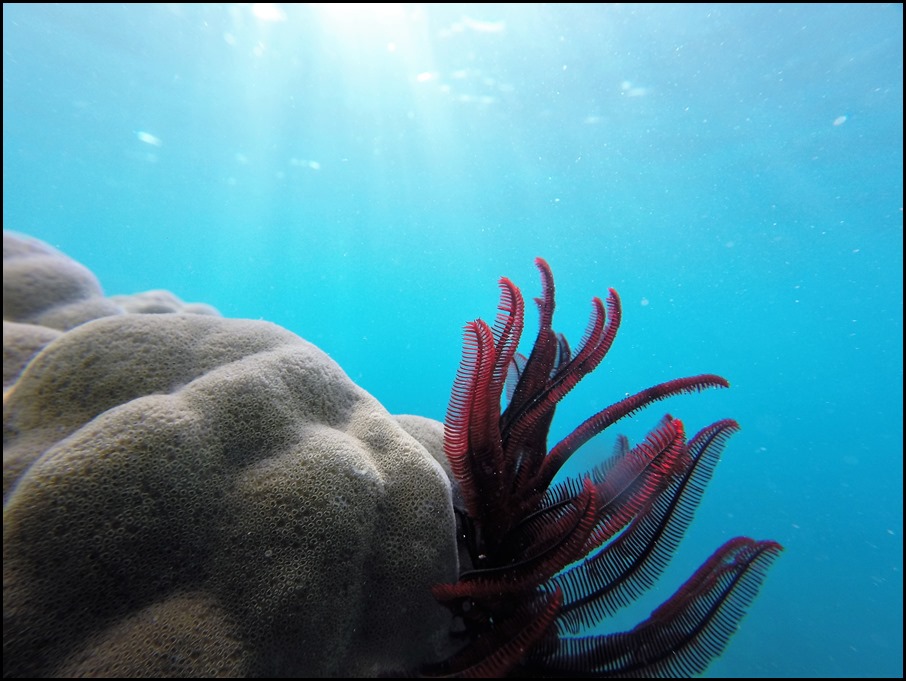 After saying goodbye to Russel's parents we spent 5 days anchored off Ratua Island catching up with school, getting on with boat work and  scrubbing the hulls. In truth, it took a bit to get Russ to stop in one place and catch up. The go-go gremlin force in him is strong…
What I enjoyed about Ratua was the density of turtles and the small reef that I could snorkel to straight from the boat. To snorkel a place more than 1-2 times means you start to get to know it. There was the resident white tip reef shark that could always be found in his cave in the late afternoons, the families of ever-comical anenomefish, strange, white legged spaghetti worms, a gorgeous blue spotted ray that hung out where the reef dropped off and beautiful healthy coral in shallow, gin-clear water. A fellow cruiser told me about a bunch of white seahorses that could be found close to the shore but I don't believe him because I looked and looked every day and they remained elusive…
Below left; bulb-tentacle sea anemone.
Below right; the loveable, edible and endangered armoured sea cucumber. He had numerous, large tubed feet on his flat underside and his pointy 'horns' gently swayed with the current.
Below; we took a tour to the Millenium cave with some friends from another kid-boat…it involved a bumpy drive sitting on a plank in the tray of a hi-lux , a trek through dense, tropical rainforest, a scramble over rocks and boulders, steep ascents and descents, clambering up and down muddy slopes using vertical ladders, crossing a river on a slippery bamboo pole bridge, traipsing through two villages and traversing narrow jungle paths……And that was all before we even entered the spectacular canyon and cave itself. The decent into the cave entrance (a deep hole in the lush landscape) involved ladders, ropes and secured grips. Once inside it was pitch black and we were provided with a torch to spot bats and swallows and negotiate the next step. The guides (mostly in bare feet or thongs and carrying machetes) obviously knew every submerged rock and herded us through the dark tunnel with ease.  We waded in waist deep, guano-infused water, climbing rocks and passing cascades for about 40 minutes before we emerged back into sunlight and proceeded to float down the spectacular canyon. A steep climb up to the ridge and back to the village ended our adventure and we arrived back on Tika, muddy, tired and glowing from our adventure….
Above left; muddy shoes!
Above left; Kai and friend from SV Stop Work Order-  being swept down the spectacular canyon. We stopped to jump off high places, splash under waterfalls and play in fresh mountain swimming holes along the way…
Below; Russ at the entrance to the cave
Above; the bamboo bridge- they weren't secured so they twisted and turned underfoot. The bottom poles were rotten and new, fresh poles would just be added to the pile so it could be crossed.
Below- More swimming holes. This one on Malo Island- climbing, jumping and swinging with a local family.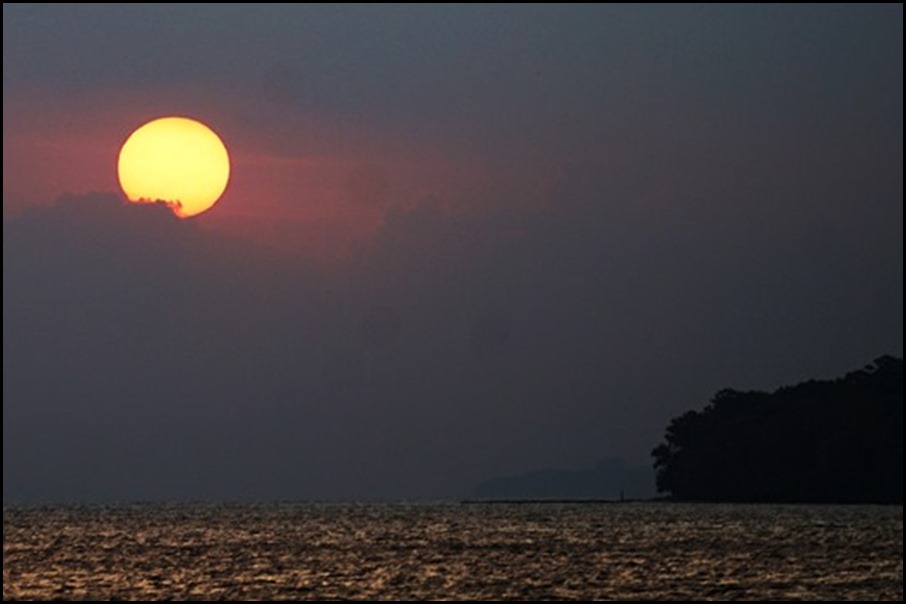 Above; the sunsets are hazy in Vanuatu! Must be the smoke and ash from volcanoes….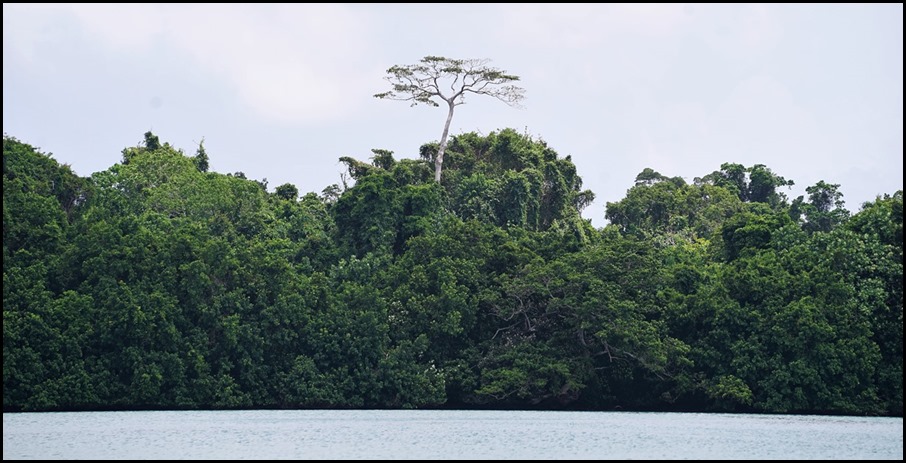 Above; we loved this avatar tree sighted as we rowed Tika Taka up another creek. We came across a large, fresh water lake before heading up another estuary to the swimming hole and obligatory swinging rope. 
Below; we enjoyed a few divine meals at the Ratua Island resort and shared a glass of wine with the new (kiwi) owners. The resort was created by a French couple who transferred an entire village of 200 year old buildings from Bali to Vanuatu. The result is stunning and all profits go to the Ratua Foundation that funds projects in the local community. We loved the resort and we loved the philanthropy- highly recommend it for a holiday destination!
Below; the massage hut at Ratua Island Resort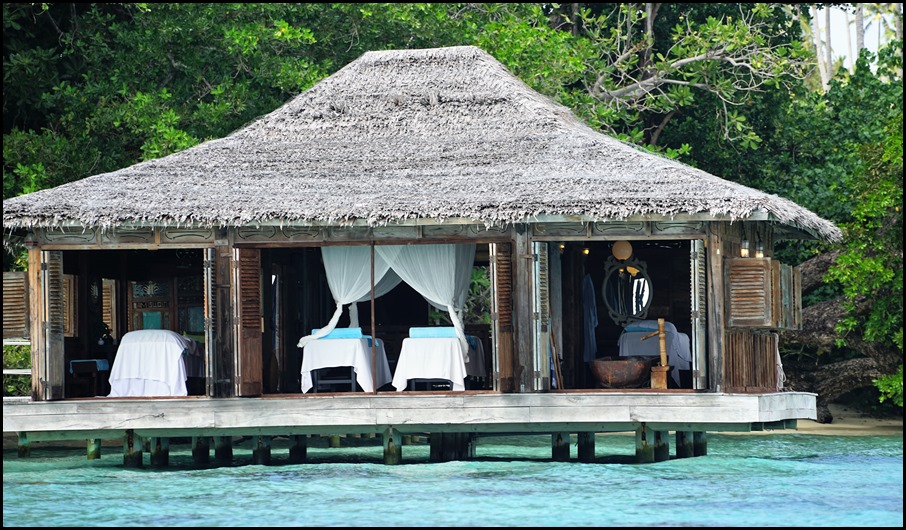 Below right; after an exciting evening witnessing explosive Mt Yasur volcano in Tanna, we were rowing Tika –taka back to Tika when we smashed our wooden oar on a bommie. Ralph and Yvonne brought us a roll of carbon fibre and Russ and Jaiya spent an afternoon glassing it with carbon cloth. It is stronger than ever now!
Esprito Santo; the movie-
Hear the water women drummers and the bamboo band-
Next post; Mawae and Pentacost- Waterfalls, the bat-cave, Jaiya's 10th birthday and watching an eruption of nearly Ambae…
This entry was posted in
The Sail
.