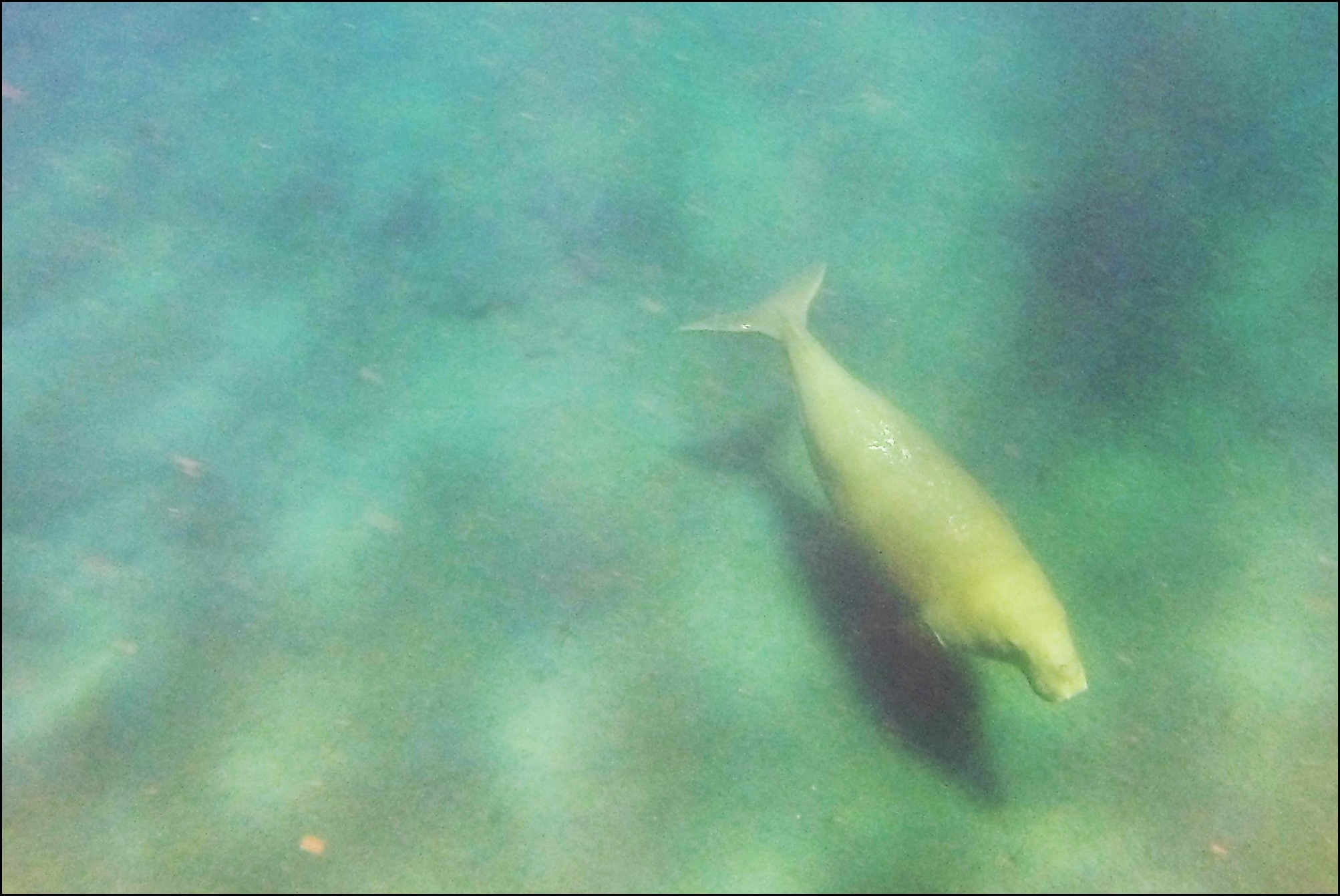 It was a hard, upwind, 20 mile slog until we rounded the south east corner of Ambrym. After that we slid down in between two remote islands; the fiery volcano of Lopevi and tiny (5x8km) Paama.  We were sailing from Ambrym to Epi with our French friends from SV Excallibur…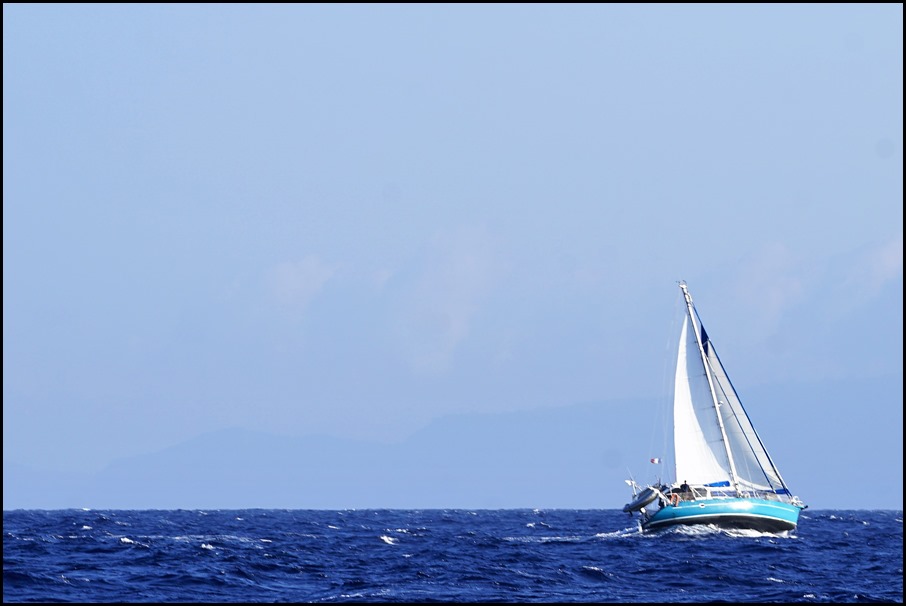 Below; cruising past the spectacular island of Lopevi with it's lava flows straight into the ocean. It was once inhabited but the population left in 1960. The many eruptions and ongoing volcanic activity made village life here too hard and unpredictible.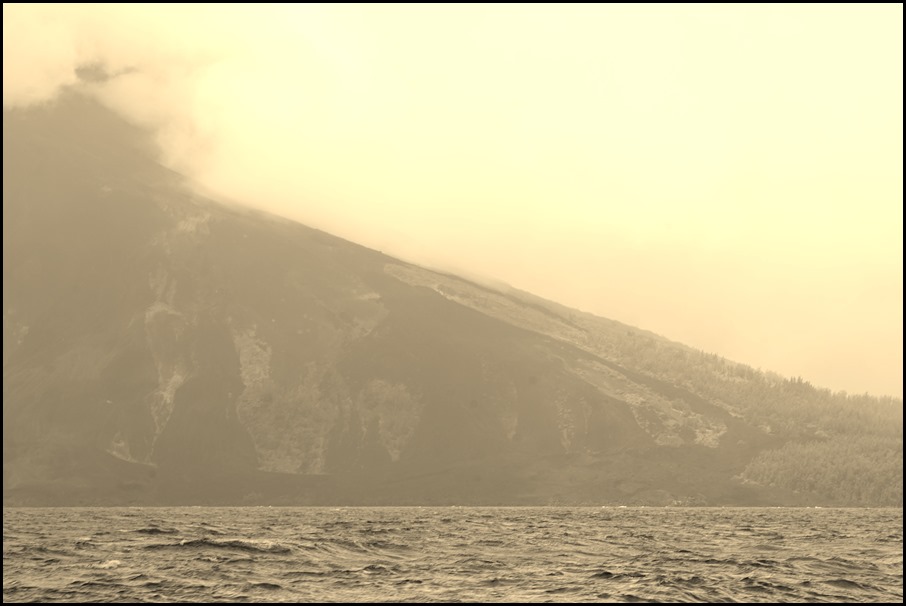 We arrived at picturesque Lamen Bay on the north west corner of Epi and were welcomed by the bay's resident dugong. He flipped his tail and splashed his rotund body around right next to Tika as we dropped the anchor. We decided he was a boy and named him Duggie…
Welcome to Lamen Bay, Epi!
Above; Tika coming into Lamen Bay, Epi (photo credit SV Excallibur) after our 45 mile day-sail from Ambrym.
Below; We came to visit Duggie the dugong but we were also treated to many encounters with very placid green sea turtles- they were everywhere and the water was so clear that most of the Gopro shots look like they are taken on land.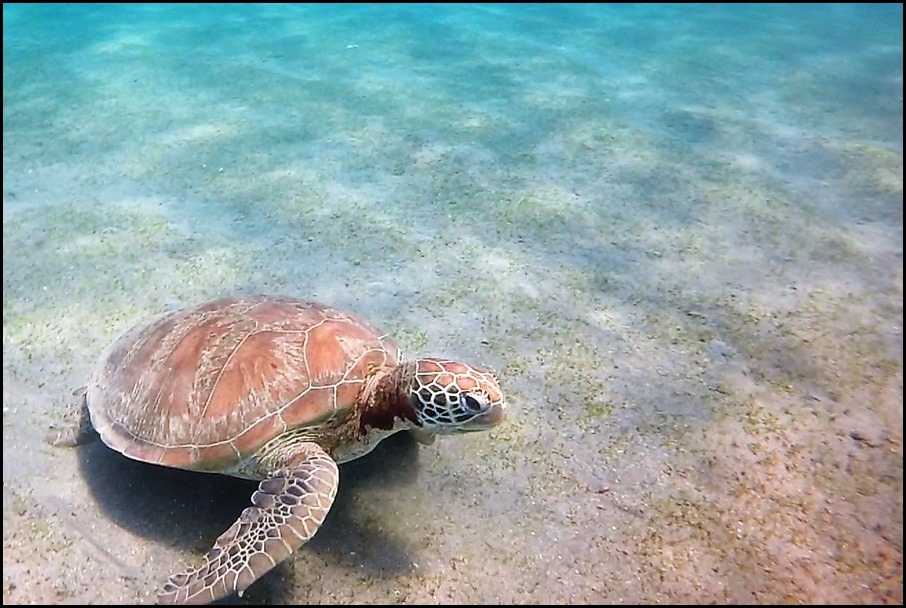 Cruising with kids has a huge impact on our schedule, choices of anchorages and over-all time-frame taken out of the 'real' world of suburban living, school and work. All the yachties we have met cruising are faced with the same challenges of boat maintenance, provisioning, weather routing, conserving fresh water and power and the many idiosyncrasies of living on a boat. Families have the additional consideration of educating, socialising and taking care of the needs of growing children. School takes a large chunk of the day and everything else must happen before, after or during that time. For me, the biggest challenge of cruising is always being on the move and trying to find the time to enjoy each place while still staying on top of school and boat jobs. I think kid-boat generally would like to move slower than child-less cruisers, but ironically, it is the families that often feel the clock ticking for a land-based high-school, on tap friends and a cash injection! Some families find a way and choose long term cruising and I am envious of boats that get to stay in one place long enough to find a real connection with the locals. It is nice to find a quiet place like Lamen Bay where, for a short time, we can knuckle down to a routine of school, jobs and play. It's also good to have another kid-boat around so that Kai and Jaiya (and us adults) can hang out, compare notes, snorkel, swim and windsurf together after school…
After his initial welcome when we first arrived, Duggie (above left) spent a couple of days being rather elusive- we would see him surface at times but he was on the move a lot and we didn't manage to swim with him until our last morning on Epi. Then, two families chased him around the bay swimming, paddling and slowly putting around in a dinghy for ages until he decided to hang out to munch on turtle grass and we were finally rewarded by some close encounters of a sea cow nature..
Above; another fabulous sinking sun behind SV Excallibur…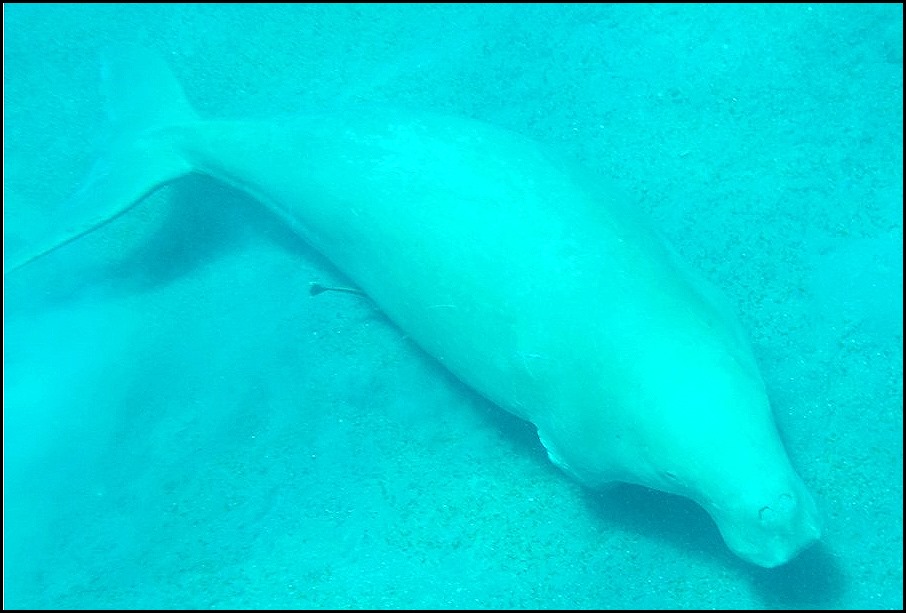 Above; Duggie the dugong…
Ever wondered about the myths that terrified and fascinated sailors across many cultures; alluring, young women of the sea like the sirens of Greek mythology and the fabled, flashy tailed mermaids? Duggie's ancestors!
" When the Admiral went to the Rio del Oro [Haiti], he said he quite distinctly saw three mermaids, which rose well out of the sea; but they are not so beautiful as they are said to be, for their faces had some masculine traits." (Christopher Columbus, Voyages of Columbus, 14 January 1493)
Manatees and dugongs are both known to rise out of the sea, supporting themselves with their tails. They also have forelimbs containing five sets of fingerlike bones, and neck vertebrae that allow them to turn their heads, so it is possible that they were mistaken for humans from afar.
Following Columbus's expedition to the Americas, sideshows in Europe advertised "recently discovered" mermaids from the new world, often a deceased sirenian (a dugong or a manatee)
Englands Magazine of Natural History wrote; "A short time back, the skeleton of a mermaid, as it was called, was brought to Portsmouth…This was allowed to be submitted to the members of the Philosophical Society….about six feet long: the lower dorsal vertebrae, with the broad caudal extremity, suggested the idea of a powerful fish-like termination; whilst the fore legs, from the scapula to the extremities of the phalanges, presented to the unskillful eye an exact resemblance to the bones of a small female arm"

Days of morning school and afternoons filled with skurfing and searching for Duggie…The fringing reef, that fingered far out from the point, was really interesting so snorkelling was always a good option too!
Above middle; skurfing is fun but adults get tired of driving the dinghy so the boys took over… yay! we get to drink coffee in the cockpit and watch instead…
Below; A type of mushroom coral. They are not a true coral or even true anemones; but are closely related to both organisms. They are large polyps (up to 35cm diameter) that can change shape fairly quickly (sometimes within a few seconds) from an open and flat disc-like form to a closed, onion-shaped polyp. The are also carnivorous and can trap an animal inside and consume it! I found a colony of them on one bombie just off Tika's stern.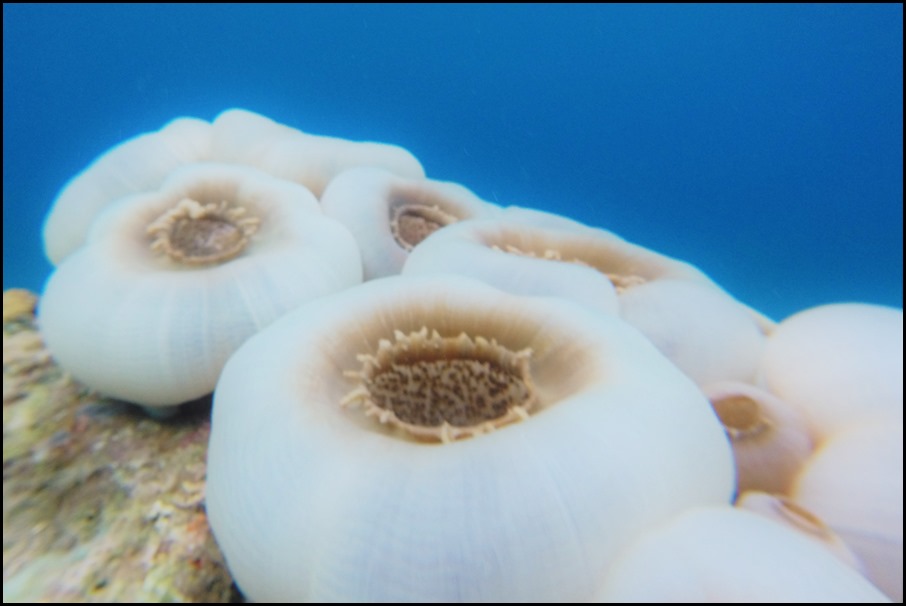 Below left; Duggie face planting and hoovering…the dugong is the only entirely marine mammal to feed exclusively on plants. Dugongs use their short, paddle-like front flippers and a fluke-like tail to power themselves along the sea bed. They use their flexible upper lip to rip out whole plants and leave characteristic furrows or 'feeding trails' along the sea floor.
Another hazy, burnt orange sunset…. we don't get tired of sunset worshipping…or hanging out with turtles (below)
Below; Kai and I took off for a sail on Tika-taka… after a morning of school in the saloon it is soul-nourishing to get out on the water with my boy. He is a natural sailor and is still teaching me the finer details of dinghy sailing. He insists on being on the tiller at all times but I am quite happy to lie back, daydream and listen to him talk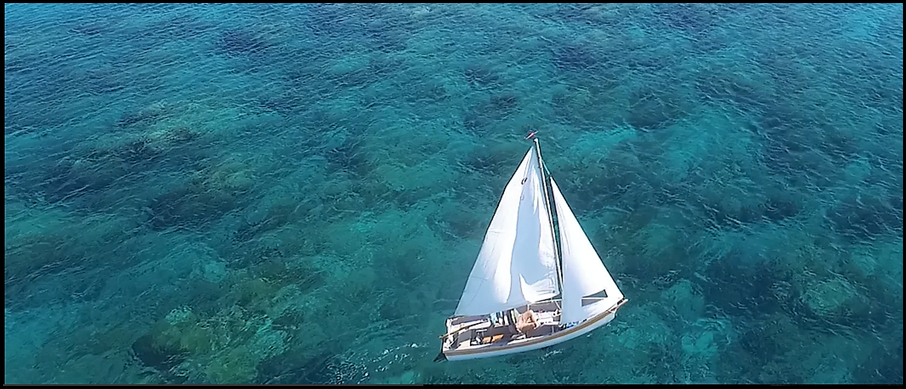 Above left; dugongs really do have a beautifully shaped tail!
Above right; Russ sailing across the bay with Tika-Taka, Jaiya and Paul from Excallibur…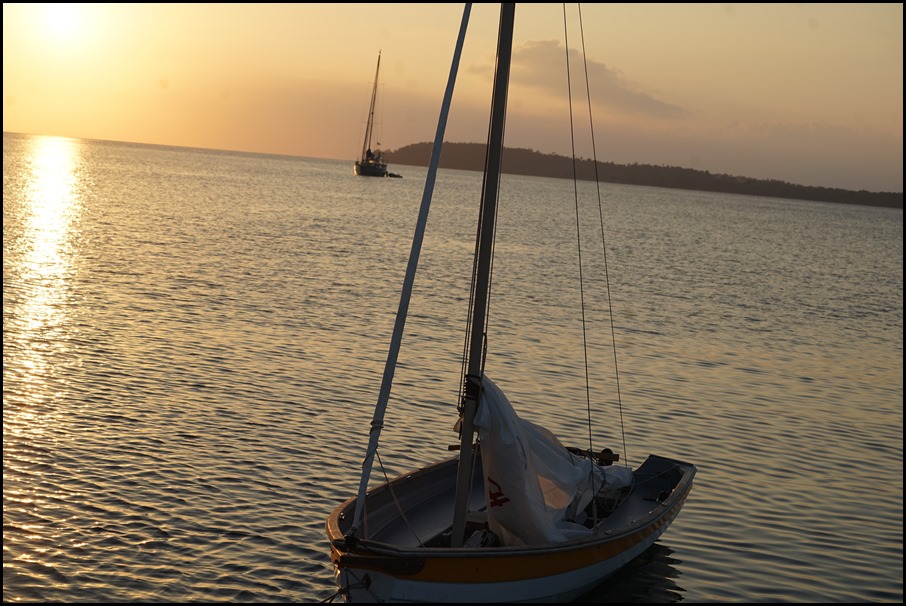 Above left; we moved around to Walavea Bay and met the two families who live right on the beach. They taught us what to do when a trading boat wrecks on your doorstop during a cyclone- string a long power cord direct from your hut and plug into the still-working generator of course! It may have marred their ocean view, but their ingenuity provided them with 240 watt power. We are still not sure how the generator manages to properly work and circulate oil operating at a 50 degree angle! Ben and his family gave us fresh fruit and even offered us a pig. We spent a night beside a beach fire with most of the children from the extended families….
Sugar is not something we usually give local children but our kids were indulging and so, these kids ended up with their first taste of marshmallows. They had crowded around with interest so we showed them how to slow slow-roast the fluff to a gooey centre and a golden brown crust. One little girl decided that she definitely did not like marshmallows but the older kids, although bemused by the ritual, were delighted. In return, they taught our kids how to make 'Indiana Jones' style fire torches. You take a banana palm frond and bend the dry leaf over itself a few times. Then, you take a green vine and wrap it as tight as possible. Ideally the frond stalk becomes the torch's handle. The game is to place all the burning fire sticks into the sand in the water shallows. Everyone then stands back on the beach and throws rocks at every-one else's flaming torch. The last one standing wins. An entire night of entertainment! Kai and Jaiya and the kids from SV Excallibur soon copied the locals and the torches got better (and bigger!) as the night wore on…
Next Post; dugongs; a research paper by Jaiya… 
This entry was posted in
The Sail
.