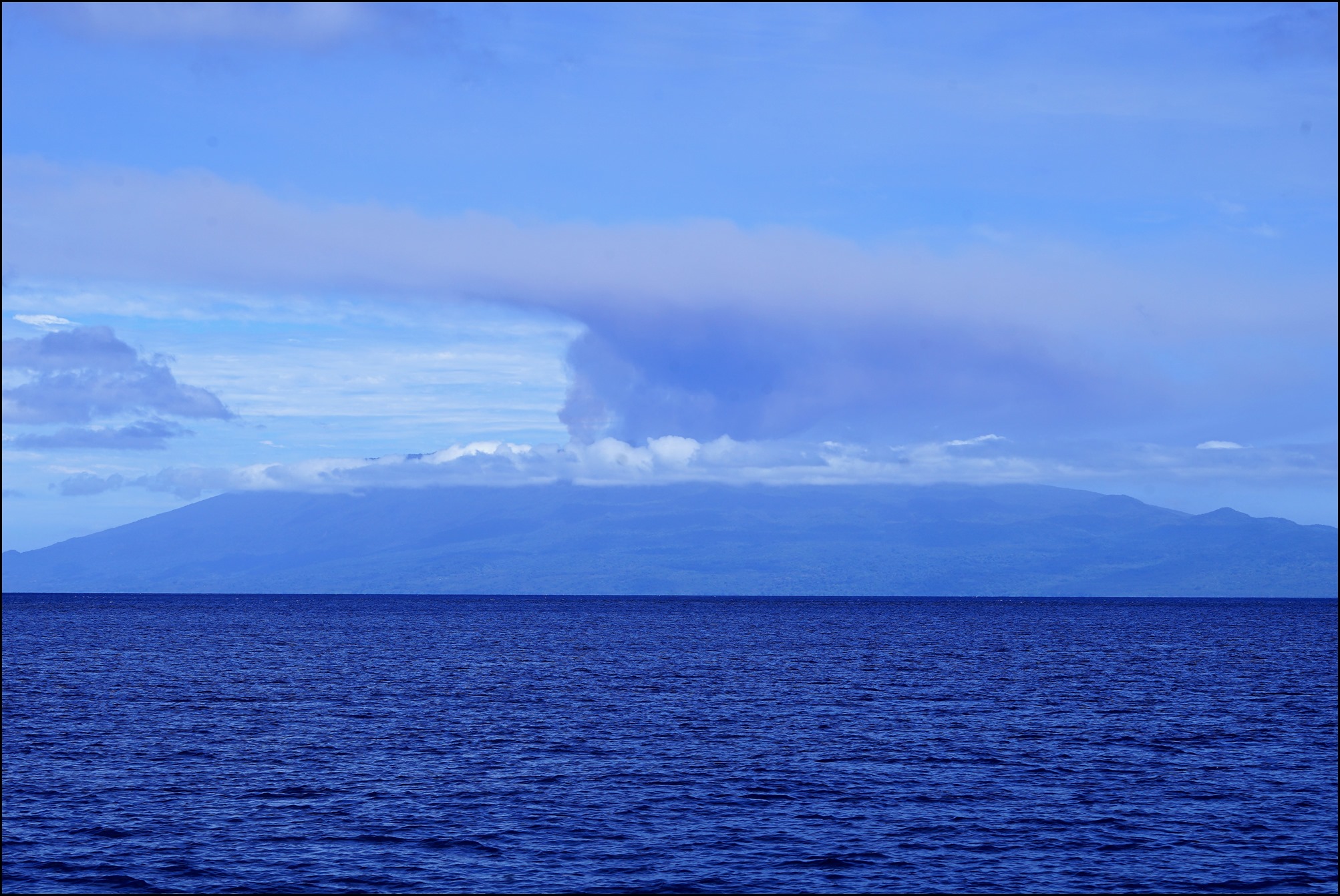 Fish on! As we sailed east from Luganville, and passed the island of Ambae towards Maewo, the line spun like crazy and we pulled in a beautiful, big mahi mahi!! One of our favourites for fresh sushimi….yay! 
We arrived in Asanvari Bay on Mawae's south west coast; and discovered the perfect place to celebrate Jaiya's 10th birthday…The protected basin has fringing reef and a backdrop of steep jungle that ascends deep into the island's centre. It is flanked by a peaceful village and a rushing, gleaming waterfall with upper and  lower swimming holes. Icing on the cake comes in the form of Columbus; a toothless old man who delivers FRESH, HOT , WOOD FIRED BREAD to your boat every-morning in his dug out canoe. Bless you Columbus!
We hiked a trail by the waterfall almost daily during our stay in beautiful Asanvari.
Below left; meeting ladies on route from one village to the other; baskets of food and machetes in hand. The Ni-Van's machete handling amazed me- the casual, swinging hold of the blade whilst clambering over rocks, traversing boulders and crossing rivers gives the impression of wielding a harmless, blunt instrument. However, when they decide to husk you a coconut with lightening speed and razor-sharp accuracy, you soon realise that they are carrying lethal weapons.
Due to Maewo's remoteness, the only visitors are the copra and supply barges, or yachties. We are a life-time away from the flashy (and not so flashy) resorts of Esprito Santo and Port Villa. A cruise ship does dock at Homer Bay on Pentacost Island to the south, but Maewo is back-packer and tourist- free. The locals are very friendly, welcoming and genuine. Asanvari was one (more!) place that invited us to settle in and stay a while. We got a real sense of a closely knit, grass roots, unspoilt community…
Above middle; birthday skurfing! It's become a tradition on Tika- it's just the thing to do on your birthday…
Above right; the beautiful Asanvari waterfall.
Below left; swinging on jungle vines during a hike to the 'bat cave'- which was a 2 hr walk from the anchorage through a small nearby village and dense rainforest. The bats (below center) were tiny, furry little critters and there were huddles of them nestled on the ceiling of the cave. There were also bats and swallows flying around and they regularly flittered against us as we made our way through the cave to a massive drop off. Apparently you can climb/abseil down the abyss and follow the underground crack until you pop out at the coast on the other side of the islands. We were content just throwing rocks down into the chamber and seeing how close to the edge we were brave enough to stand. Actually that's a lie. We weren't all content with that. Kai wanted to descend and go all the way…
Below left; Asanvari bay. We would watch parents from nearby villagers paddle their children across the basin to school in dugout canoes every morning. They would greet us with a wave as we sat in the cockpit drinking coffee. After school the kids would be out in the water  fishing, diving and checking out the yachts. 
Below right; The bat cave.
Swimming in the waterfall pools was a refreshing change to salt water dips!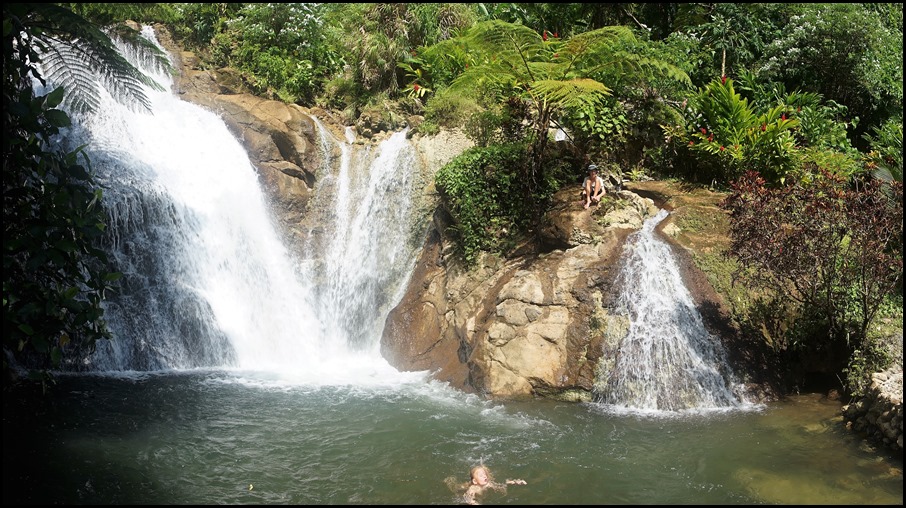 Below left; this one smiled for the camera
Below; occasionally, we allow Russ to relax- and this was a dreamy spot to have a little daytime snooze…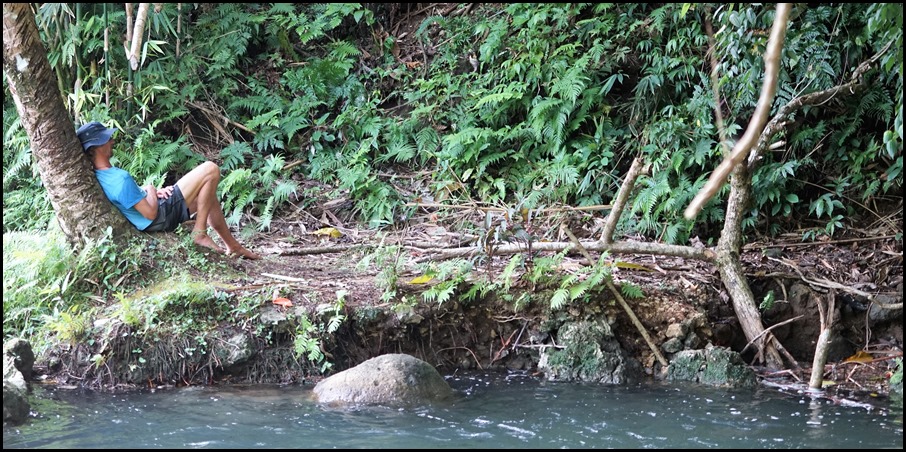 We relished some chilled out family time in this spectacular bay- some evenings a pod of dolphins would dive into the basin and top off an idyllic scene that we never tired of losing ourselves in…
Below- Jaiya's birthday went something like this- pancakes, waterfall walk and splash, skurfing, lasagne for dinner followed by the cake… It is challenging decorating a cake without any of the fancy tools/fondant and shiny, sprinkly things found in a land-based baking kit, but I did pick up some chocolate buttons from the supermarket in Luganville. They saved the day and made decent fish scales…
Below; these boys were curious and friendly and spent their time hanging around the boats waving and chatting in Bislama. Kai handed down some too-small clothes to them and they brought us coconuts and invited us to join them diving for clams.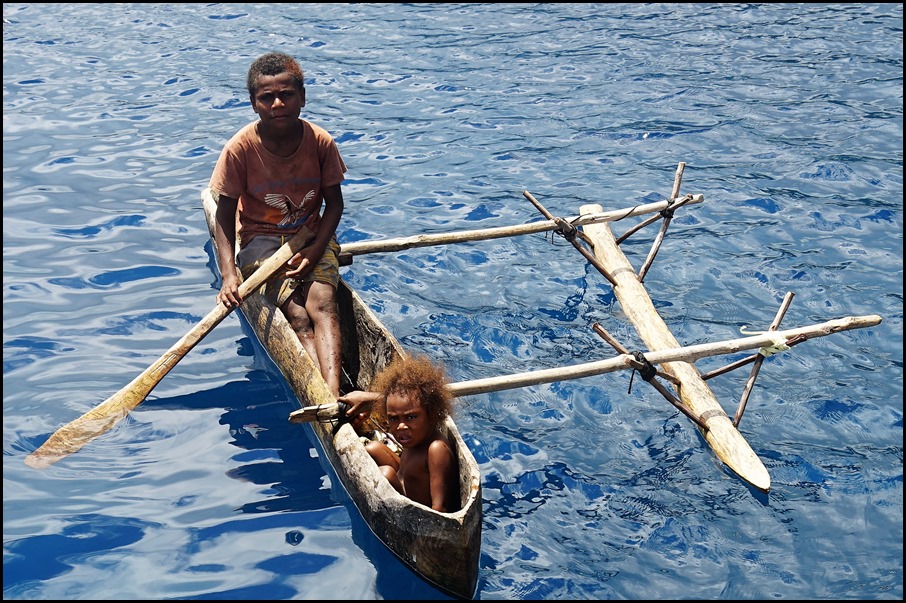 Below; love this shot of the birthday girl….contemplative free-spirited boat kid looking out to sea…
Below; endless climbing opportunities with the added bonus of a secret crevice hidden behind sheets of cascading water…
And picking up some fresh veggies off the villagers.
Below; I love the packaging of my veggie shop- not a plastic bag in sight! On the same village trip, I was admiring a sea-grass bag one of the locals was carrying his coconuts in. I was thinking it would be great for market shops and wondering why these don't replace plastic bags at home; he saw me looking and promptly took it off his shoulder and gave it to me. He wouldn't take anything for it so we took him for a sail on Tika-Taka and left him talking excitedly about making a sail for his outrigger. We don't ever see local boats with sails in Vanuatu- only paddles, but we showed our friend pictures of Indonesian lanteen rigs and he left Tika brimming with ideas… 
Below right; One morning I was doing my yoga on the top of the targa when I heard a big rumble. I turned towards nearby Ambae island and saw a massive plume of smoke from it's 1496m volcano; Mt Lombenben. I snapped this shot and was amazed at the intensity of the smoke and ash. Apparently, Lombenben had started grumbling at 4.30am and by mid morning the alert had been upgraded to a level 4 ("danger on volcanic cone, caldera and all island, possibility of very large eruption and also chance of flank eruption") and by the following day, villagers were being relocated to the other side of Ambae. Within 10 days, the entire island of around 10,000 people had been evacuated amid fears of a major eruption. 
There are frequent earthquakes and volcanic eruptions in Vanuatu as the country sits on the edge of the Pacific tectonic plate which is being forced up and over the Indo-Australia plate. Some areas of Vanuatu are being uplifted at the rate of 2cm per year and others are receding. There are 9 active volcanoes in Vanuatu and during our time here, 6 of them were keeping volcanologists on their toes with an increase in activity.
Below left; Kai found another 13yr old boy to do daredevil waterfall tricks with; perfect! Charles from the French boat SV Excallibur also turned out to be a windsurfer and into similar computer games. A lasting friendship was formed.
Below middle; we eventually left Asanvari and headed down to Pentacost Island where we stopped near some more incredible waterfalls and a traditional village about half way down the west coast. The man with the big belly was the chief and medicine man of the region.
It is hard to reconcile the gentle, content nature of the Ni-Vans with their gruesome history of cannibalism. The last recorded head hunting event happened in the Maleluka islands only 48 years ago in 1969!  
Below right; sailing TikaTaka in sailing past the waterfall in Asanvari Bay…
Below right; the village at Waterfall Bay. The huts' roofs are thatched with coconut leaves and the walls woven with the same fibrous plant. 
An active lifestyle with a diet of fresh fish, home-grown veggies and the occasional pig-feast keeps the villagers healthy and content. The main stress on families we met through-out Vanuatu was paying school fees. Primary school is free but high school is very expensive for most Ni-Vans. Rural communities are mostly subsistence farming but exports of kava, copra and tobacco are necessary to generate cash for school fees. We heard that many of the copra/kava/tobacco barges plan their trips to collect produce around the time that school fees are due. 
Above left; despite appearances; we do feed him! honestly, we do! a lot!
Below left; our guide on Pentacost Island was Mr John Whiley. He wore western clothes and took his job as guide very seriously. He charged us a small fee and told us went into a trust to be used for community buildings and other projects for the village. We were warmly welcomed at Wali Bay. It is a small community made up of a number of extended families and well tended gardens.
Below left; John and his village…
Below right; bamboo growing wild- the Ni-Vans use it for making the frames of their houses.
Below right; wild taro plants.
Below right; being invited into the village Nakamal (a meeting house and kava bar) for some food, 'kustom' singing and sand drawing. This progressive village welcomed women into the Nakamal-  many traditional villages do not.  
Below; meeting some of the kids… this was one of the most authentic glimpses into village life experienced in Vanuatu. Although it was clear that we were being shown what was probably a standard performance for the occasional yachtie visitor, it was far from touristy and there was a genuine appreciation of our interest in their culture. The children were giggling when they sang one particular playful song that involved holding hands in the middle of a circle. The adults were also smiling so, curious, I asked what they were singing about. I was sheepishly told it was a song to determine who had farted and whose butt smelt the worst! They thought it was the most hilarious thing that I had asked and was told what the lyrics entailed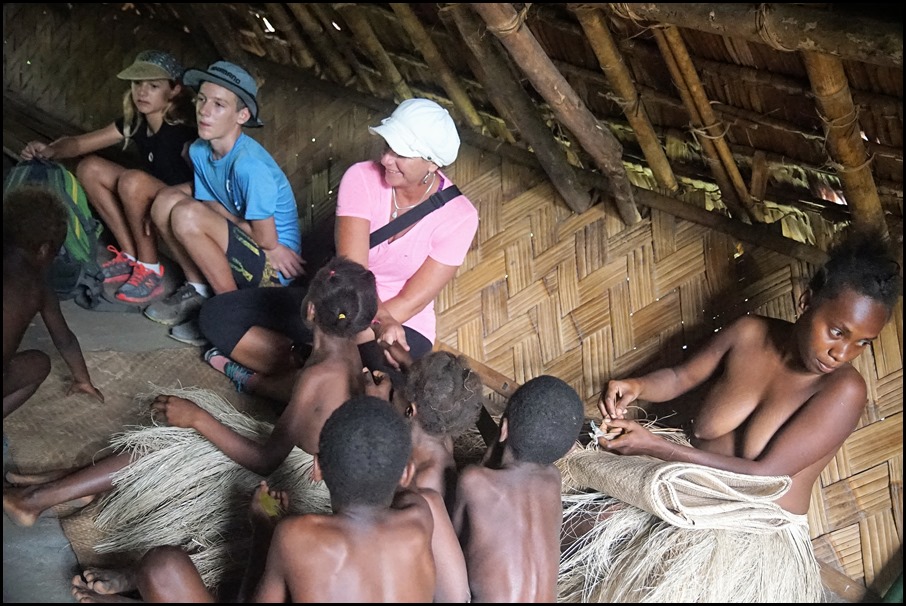 Above left; we took a walk around the village and John proudly showed us the community gardens. Water taro (that has a more pleasing taste than the regular, dry, starchy taro root) grows abundantly and follows the valley and stream high into the hills. 
Above right; I loved this village matriach- she had a deep belly laugh and boundless energy for her grandchildren.
Below; we were shown some sand drawings- the beautiful, ancient art that leaves temporary messages or illustrates creatures, plants or stories of culture and legends.
Above and below; watching the artist sand-drawing..the skill is passed onto the children by the village artists. It takes years to learn the language of 'kustom sandroings.' 
Below; we were offered roasted plantain bananas and spinach leaf laplap. I knew Kai and Jaiya wouldn't like either of them and I was proud that they took one of each and ate them anyway…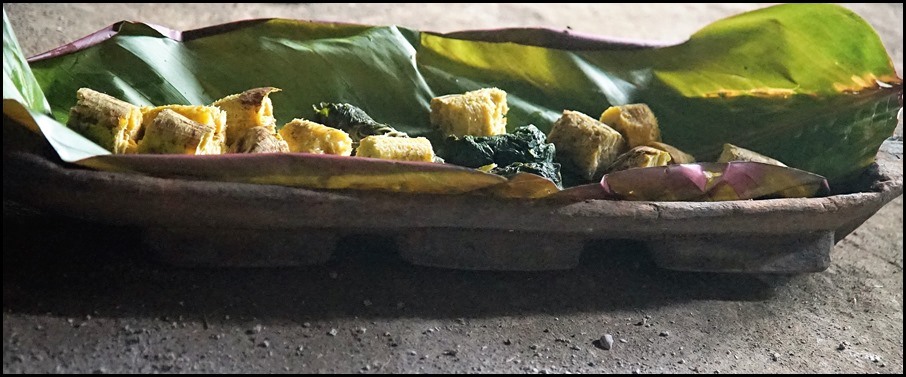 Below left- this says 'Russel' in the traditional language of southern Pentacost.
Below right; John Whyley showing us through his village…
Below right; growing tobacco for export.
Above right and below; one of the women cracked some 'natapoa' nuts for us. They were almond-ish but super light and crispy, almost as if they had been freeze dried or dehydrated!
Below left; Jaiya makes friends with every animal she encounters- this time a scrawny little kitten.
Below right; an old mooring ball? or an unexploded bomb? we couldn't decide and the villagers didn't have a clue either!
Above; Tika patiently waiting for us at Waterfall Bay..
Above right; a kava drying rack in the village.
Below left; the inspiration for bungee jumping; the world-famous land-diving (off rickety, bamboo towers) on southern Pentacost island Vanuatu. The ceremonies take place annually in April-June so we didn't get to witness one but we did get to see and climb one of the towers. Boys here, quite literally make spectacular leaps into manhood, braving the lower towers when they are as young as 5 (followed by  circumcision) and working their way up to 25m head first dives. It is believed that a diver who  just grazes the very top of his head on the ground without hurting himself will ensure a good yam harvest and abundance for the village. There is no safety equipment (not even a measuring tape to calculate the length of the vines that are attached to the diver's ankles) and injuries and death do occur…
Below right; of course we climbed the 'naghol' dive tower. Traditionally, the towers are assembled every year in new locations determined by the chief, but this one remains erect all year thanks to P&O Cruises, whose passengers get to admire it on their day trip to Homer Bay.
The legend of the diving ritual goes something like this- a newly-wed woman ran away from her husband and climbed high up a tree. As he approached the tree she threw herself off it having cleverly tied vines to her feet. Her grief stricken husband flung himself after her (sans vines) and died. After that it became a thing. And superstition runs amock here… having sex on land diving day will be sure to kill you. And wearing a charm is just as dangerous- apparently the villager who dived here in front of Queen Elizabeth in 1971 was wearing a charm as he plummeted to his death from the top of the tower…. 
Below right; Chia- she was 14 and was  a delightful guide through the village one morning. She showed us her school, the church, the Nakamal and the community gardens…
Below; a 1,5 minute snippet of Asanvari Bay and the Pentacost land diving tower…
Next post; climbing a category 3 volcano! 
This entry was posted in
The Sail
.