Havannah harbour sits between the east side of Lelepa island and the mainland of Efate. On the west coast of Lelepa is the most stunningly gorgeous lagoon. Littered with bombies. But gorgeous. 
After 6 weeks of black, volcanic beaches, we had forgotten how lush fine, white sand feels under the toes…..the water was also inviting and reminiscent of the lagoons in some of the motus in the Tuamotus. The windusrfers were out and fun was had with SV Invictus and SV Excallibur….
Above left; Jaiya took the girls from Invictus and Excallibur for rides on her board..
Above right; the brother and sister windsurfer team. Jaiya is on an inflatable board (that she manages to get on the plane!) and Kai is on his 50L custom hard board. Would you believe that we manage to stow 6 boards (including 3 inflatable boards and a surfboard) 7 windsurfer sails, 5 booms and 5 masts on Tika? We have a cavernous, starboard fwd deck locker that we call 'the toy cupboard'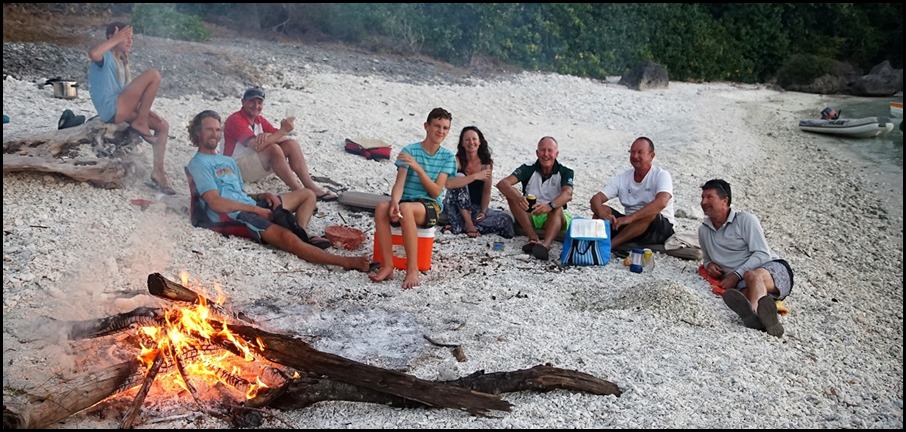 After Invictus and Excalibur left, a couple of Aussie boats arrived! Lovely to catch up with Tony (and crew Karen) from SV Tactical Directions and meet SV Two-Up-Together. A fire on the beach was an almost daily event at Lelepa.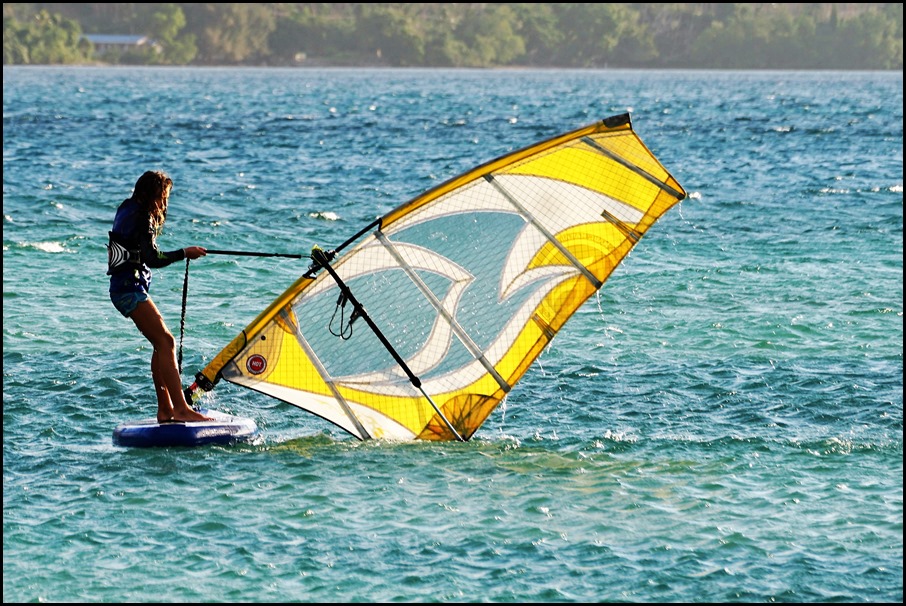 Above; I love this shot of Jaiya pulling up her yellow 2.6m sail. Even as a toddler, it never once occurred to this girl that she couldn't do everything that Kai (and others) were doing despite the 3.5yr age gap. Studies show that by the age of 14, girls are dropping out of sports 2 times the rates of boys and we sincerely hope that Jaiya, who is strong, athletic, competent and loves throwing herself into physical activity, does not succumb to this statistic (and plenty of other depressing stats on women in sport..) We talk a lot about how both kids will integrate back into land-life, organised sports, school and the pressures faced by adolescence. Sometimes it's enough to make us want to keep cruising! There is certainly a freedom growing up out here- kids can be kids without any pressure about what to wear, how they should look and what they can/can't do according to gender, ability, age or peer pressure. 
The windsurfers are the kids independent travel vehicles and they took off for hours exploring the lagoon, reef and beaches…It's great to find another kid-boat with windsurfers aboard (S.V Excallibur)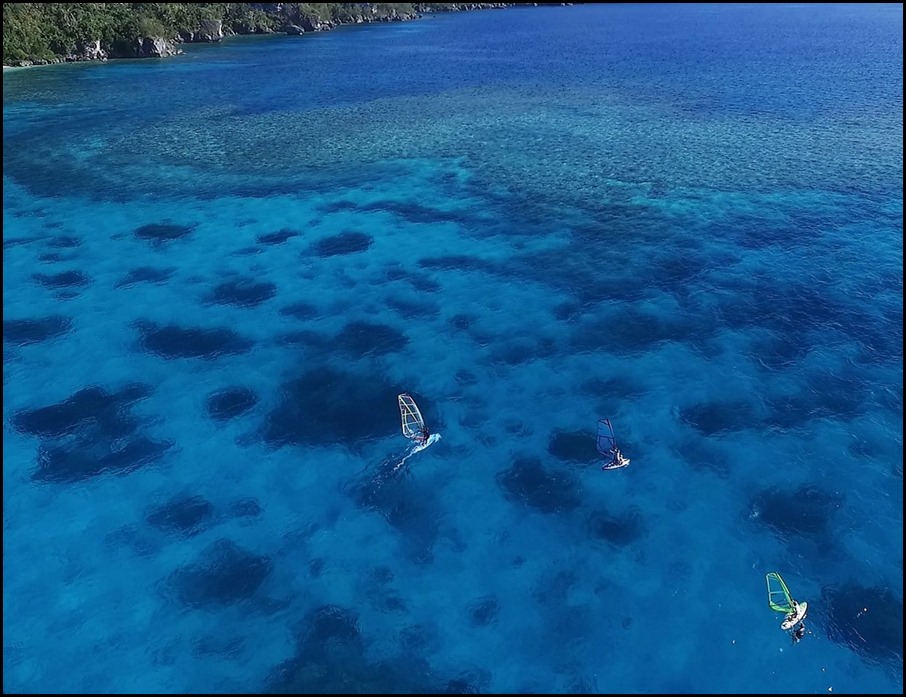 Below right; Lelepa had the most amazing cave that just kept burrowing further and further into the depths of the headland. SV Invictus laid a trail of candles creating a magical, somewhat spooky walkway complete with flittering bats and a well placed toy skull (it was getting close to Halloween after all) We loved it so much that later on when our Aussie friends arrived, we replaced the burnt out candles, insisted that they check out the ancient cave, ushered them in and enjoyed listening to the 'oooh's' and 'ahhhs' that echoed from the flickering tunnel.
We don't usually stay in marinas but when we arrived in the compact but bustling city of Port Vila we decided to make the most of dock-side water and the convenience of a large market and supermarkets a short walk away from the stern-to marina berths. 
Port Vila is a little rough and ragged with an odd mix of lingering French influences, holidaymakers, cruise ship day trippers, yachties and Ni-Van's drawn from all over the archipelago. A quick trip to the Port Vila museum was a dusty experience filled with masks, tools, carvings, history, anthropology and taxidermied animals. There was a photographic display of the 1967 archaeological dig of the mass burial site of the feared Melanesian chief; Roi Mata. Oral history kept the story of Roi Mata alive; a great chief who was murdered by his brother with a poisoned arrow to the neck in a cave on Lelepa island (I'm pretty sure it's not the same cave we were playing spooky candles in!) Due to fear of his vengeful spirit, Roi Mata was buried (along with 47 of his family and tribe) on nearby Eretoka (or Hat) island. Even to this day Eretoka is uninhabited. It wasn't until 1969 when French archaeologist José Garanger excavated the area, that the 400 year old legend was found to be true. It seemed that some of the 47 others buried alive had volunteered for the honour and were sedated with super strong kava. Others were tied up or simply clubbed and pushed into the grave….  
The best bit of our museum trip was watching a 9 yr old girl do some sand drawings for the tourists (above left and below)
The rest of our Port Villa stop was about boat work, provisioning, catching up with laundry and making ready for our passage to New Caladonia. Russel attacked the task of re-filling propane and diesel (above left) and also re-enforced a chafe area with a patch on our mainsail. Jaiya was messing around with the girls from SV Invictus and a French boat next door, so I gave them a bucket, some cleaning paste, a scourer and our oven racks and sat back to see what would happen- sparkling clean! Meanwhile, Kai scrubbed Tika-taka inside and out and I checked out the markets and stocked up Tika with fresh provisions….
Above; Jaiya and friends scrubbing the oven racks. The girl on the left is French and could not speak any English. Jaiya learnt more French from her than she has in weeks of Duo Lingo and Rosetta Stone language apps!
Below left and right middle; amazing tropical flower displays at the flower market.
Below middle; sand drawings at the museum.
The markets at Port Vila are the biggest in Vanuatu. You can purchase flowers, firewood, vegetables, fruit, shells, necklaces, carvings and tacky souvenirs from women wearing colourful 'mother hubbard' dresses…. We had been eating lots of fresh vegetables in the outer islands, but we had not seen much variety since we left Fiji! We also stocked up on meat as Vanuatu is renowned for it's quality beef. If you go to the right butcher and get a certificate, apparently you are even allowed to bring it into New Caledonia.  
Tika has travelled for 7 weeks in this fascinating country and, apart from the volcanoes, it is the people that have made the biggest impression. In many ways, Vanuatu is like going back in time, particularly outside of Port Villa and Luganville and the touristy hubs that surround them. The people here have worked out that there is cash to be made from tourism and most things will cost you money…In that way it was quite different to other remote South Pacific Islands where villagers are welcoming and generous and would not even think to ask a visitor for money. But the Ni-Vans always trade so they don't expect charity. We found them to be a beautiful, friendly, content people with a deep connection to their traditional roots, their lands and the surrounding ocean…When I think of Vanuatu, I think of a wide, authentic smile from a dark face. Usually the owner of the smile is bearing a gift of paw paw, water taro or any number of other home-grown, fruit or vegetable….
Below; Tika's travels through Vanuatu….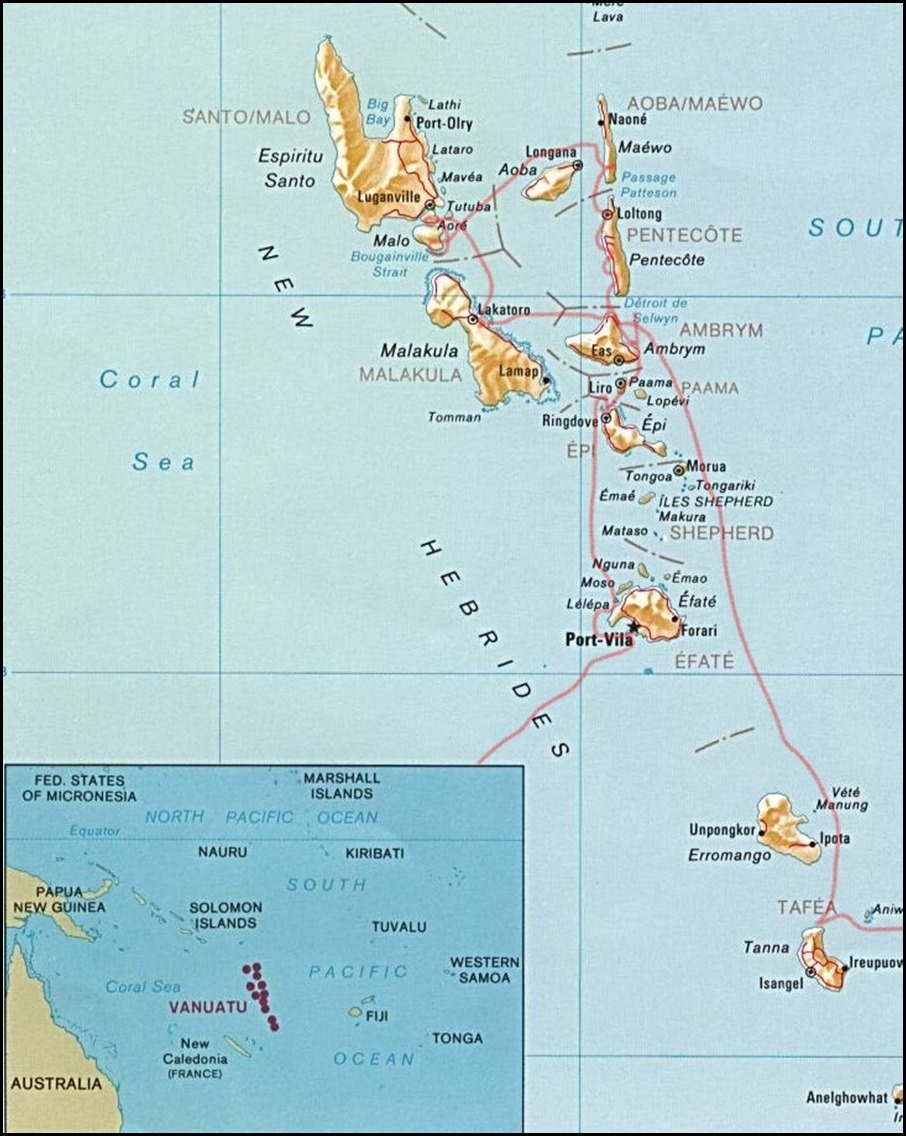 Click below for a 50 second snippet of Lelepa Lagoon…
Next post; Tika heads south west to the Loyalty Islands, New Caledonia
This entry was posted in
The Sail
.