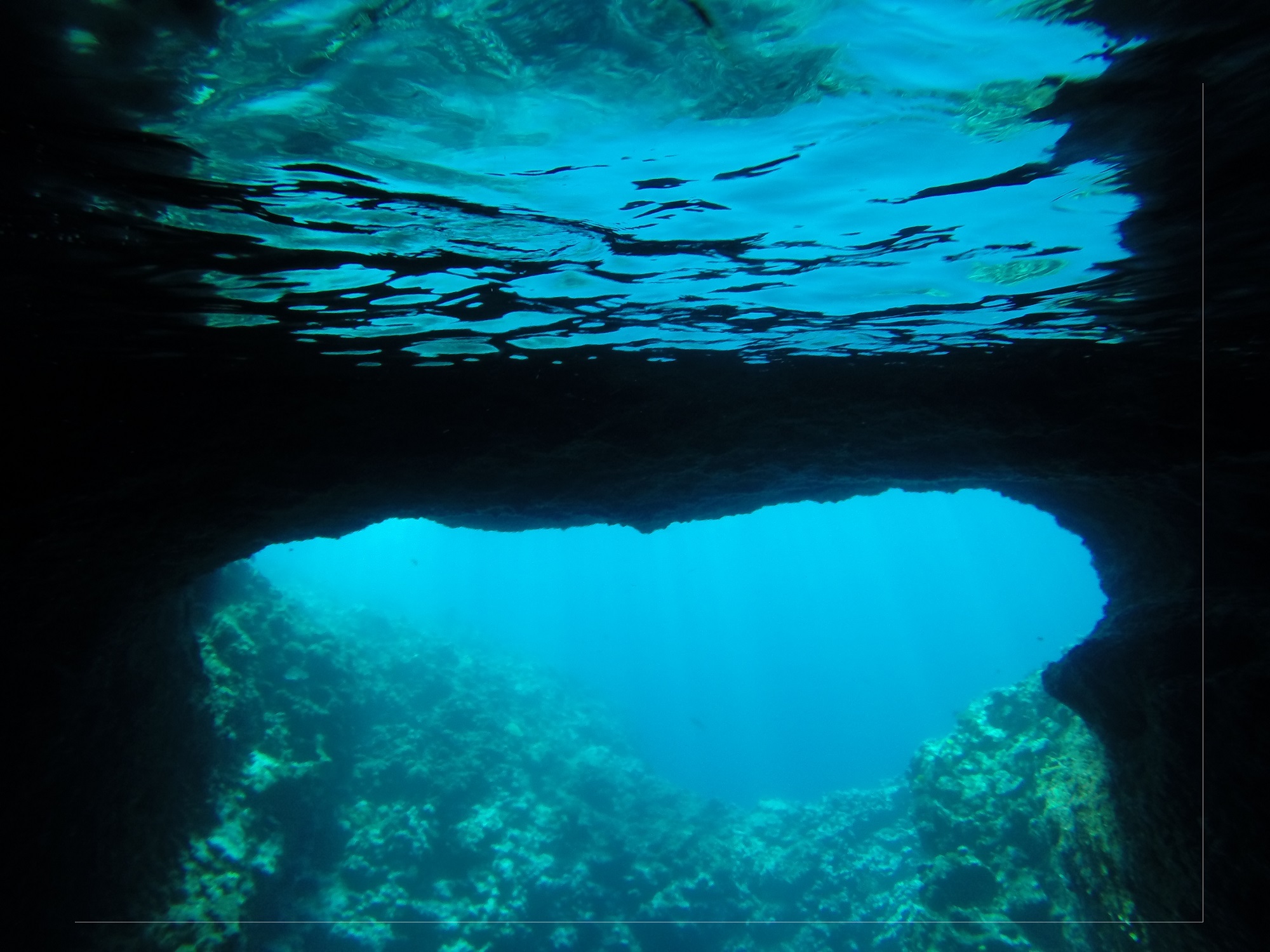 Flashback to 2007; 11 people including 3 kids sailing around Tonga's Vava'u group in a chartered, 43ft sunsail leopard catamaran. Our friends were all from one extended family, I was 7 months pregnant with Jaiya and Kai was just 3 years old. Back then, it was an 8 day, salty adventure and escape from life in Perth before our second baby arrived. If someone had told me that we would return 10 years later aboard our own cruising yacht, I would have laughed at them….but here we are…and the main town of Neiafu hasn't changed much. A little. There are more jeans and sneakers and less traditional dress around town now, but we did have a few déjà vu moments walking through town past St Joseph's cathedral to the concrete market structure next to the wharf…we provisioned here all those years ago! 
Above left; the harbour at Neiafu and above right and below; the town markets..
Above left; root crops form a food staple for most Tongans. Like the rice of Asia, tapioca ('manioke' or cassava,) taro and yams are consumed everyday and the markets are full of these large, starchy tubers.
Below left; Pacific Christianity towers over Neiafu in the form of St Josephs Cathedral.
Below right; Flashback 10 years! 7 months pregnant with Jaiya on a charter sail trip in 2007
Below; The 2007 chartering trip; 8 adults, 3 kids and a big, pregnant belly on a 43 ft catamaran! Fun times with cool peeps….
Below left; Another baby belly shot from Maninita; we returned to this beautiful island (below middle) this year to re-visit the turquoise lagoon where we are still blissfully splashing around in our memories from '07….
Below right; Boat kids! This trip, we caught up with friends that we hadn't seen since French Polynesia last year…yay!
Below; our first attempt at flying the drone from Tika while she is moving… slightly nerve racking landing it but good footage (Tonga the movie coming soon….)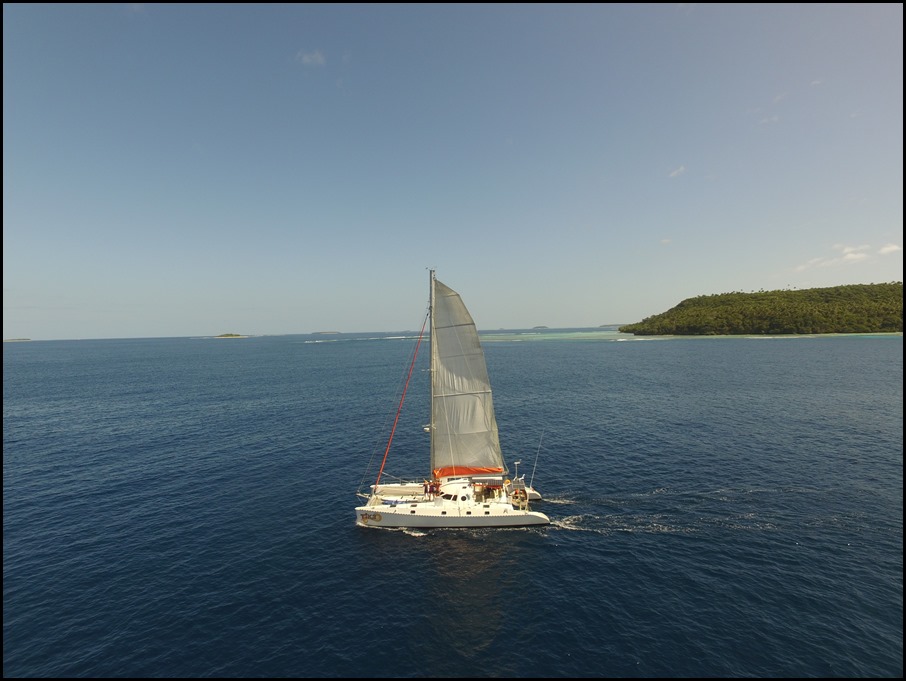 Our super-dinghy Tika-Taka came into her own in Tonga. The kids from SV Pesto came with us for a double sleepover in Port Mourelle and after two days of fun, Kai and Jaiya sailed their friends the 6 nautical miles back to their boat in the harbour. Their sail back to Port Mourelle had them hiking against 15 knot winds and handling Tika-Taka like pros…quite an adventure!
Fun on the water- kids sleepover in Port Mourelle…
Above right; about the caffeine….coffee on Tika just got better! We gifted ourselves a new coffee machine just before we left New Zealand- the ROK  delivers the smoothest espresso complete with a crema- no power required- we are impressed….
Above right; We spent a day at Nufu windsurfing, kiting and dinghy sailing with SV Sangvind. Frans and Jayden sailed the dinghy up to the anchorage for us and were smokin' with a reefed main…

The beauty of Vava'u is just how compact the cruising ground is. Nothing is far from anything and it is easy to understand why it is a yacht charterers dream and that 500 trans-Pacific yachts blow through as they head west every year.  While Tika-Taka was rigged we split the crew and two of us moved the big boat while the other two moved Tika-Taka…
Fun with the SV Sangvind boys at Port Mourelle
Below left; Tika Taka sailing to Nau Papu
Although there are very few few reef sharks or other, exciting, larger species, snorkelling in Tonga is always gratifying. The water is crystal clear, it is possible to find thriving, healthy coral and mostly, it is like swimming through an aquarium full of delicately tapered tails, softly waving fins, exotic, bulging eyes and captivating, vivid colour. The tropical fish are thick.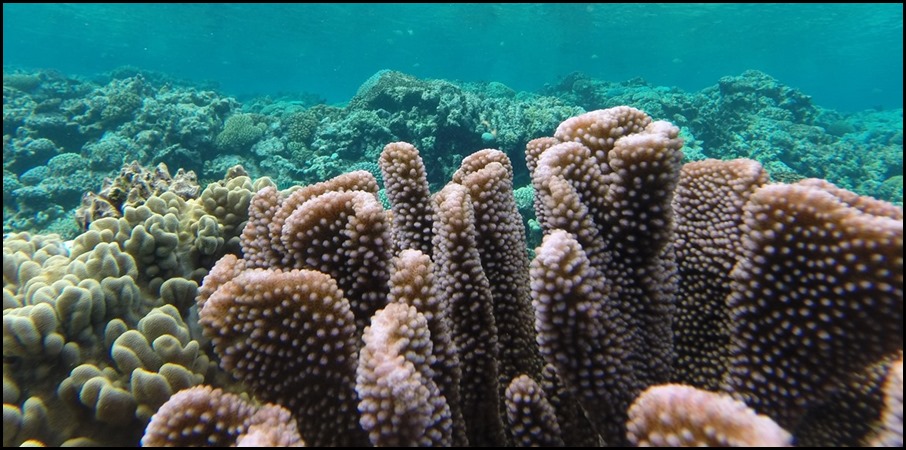 Below left- the school building (complete with massive, missionary bell) at the lovely village of Matamaka on Nuo Papu…
Below right; on our way to Hunga and the blue lagoon we had a whale breaching and waving at us from the distance. It is still early in the season but we are starting to see more and more whales. There are strict rules about approaching whales with an independent vessel and we are reminded to keep our distance every morning on the cruiser's radio network. I am not sure if this is to protect the whales, the whale watching tour operators or both….  
Top left; there are some cute little resorts popping up in Tonga. We found gorgeous beach bungalows, thatched burres, kite surfing meccas, kayak and camping set ups, remote beach bars and restaurants and a couple of retired ex-pats who had escaped the rat race and built a house on the beach where they are writing a book. pottering in their fertile garden and living the dream…

Above left; concrete houses overlooking the 11km Ava Pulepulekai channel that leads into Neiafu town (above right) and the Puerto de Refugio (Port of Refuge) named by Spanish captain Franscisco Antonio Mourelle in 1781. It is one of the most protected anchorages in the South Pacific.
King Tupou V1 was turning 58 and his birthday week was filled with celebrations, military parades and a visit to many islands from the man himself. As part of the birthday celebrations, we sailed Tika-Taka in the Friendly Islands Yacht Race around Puerto de Refugio. It was pretty funny racing against 4 large, keel boats in little, 14ft Tika-Taka. It pelted down with rain and, after 1 lap of the course we gave up and went, dripping wet back to Tika for some hot soup. Despite the weather we laughed a lot and gave ourselves a pat on the back for being the smallest yacht in the race

The King was presenting the race winner with a certificate at an annual agricultural show, so, after spending some time in the eastern islands of Vava'u we anchored in the old harbour and walked up to the local high school to check out the event.
Below left; this lady and her two children raced us in to the old harbour with her excited kids waving madly all the way.
You know you're in the Pacific when the agricultural show consists of one pig, a cow, a couple of goats and an entire, open pavillion of fish!
Below; King Tupou V1 of Tonga.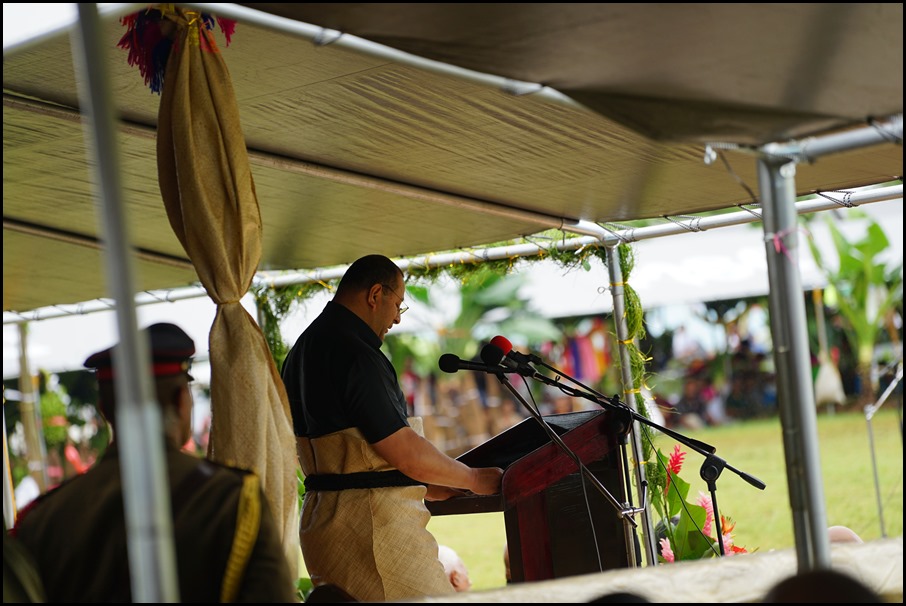 Above; the king and his entourage.
below- displays of stone fish and palm roots
Above left; the cathedral from the water.
Above right; pigs rooting about on the beach. We were wondering if they eat the crabs?
Below left; amazing patterns on a nudibranch (a marine mollusk) I have only just identified the name of these things!
Below right; Tika-Taka in the 'Friendly Island's Yacht Race' For a short period we weren't even coming last!
Above left and below. The famous, underwater cave- Mariner's Cove… The legendry hiding place of a Tongan princess who was in love with the chief of a rival village…the fable says that he brought her food every day until they were able to leave together, marry and no doubt live happily ever after!
In 2007 I was too protective and precious about my baby belly to attempt entering the cave. I was told it involved a 2m dive and a 4m traverse through a tunnel into the air pocket of the cave and I chickened out. So, without the pregnancy excuse I dived down into the tunnel and emerged in a magical, misty, back-lit cavernous grotto. It was easy! And I felt great about ticking off a goal that I had not managed 10 years before.
The cavern itself swirled with mist and an air pressure that filled and cleared with the current of the swell. What a gem!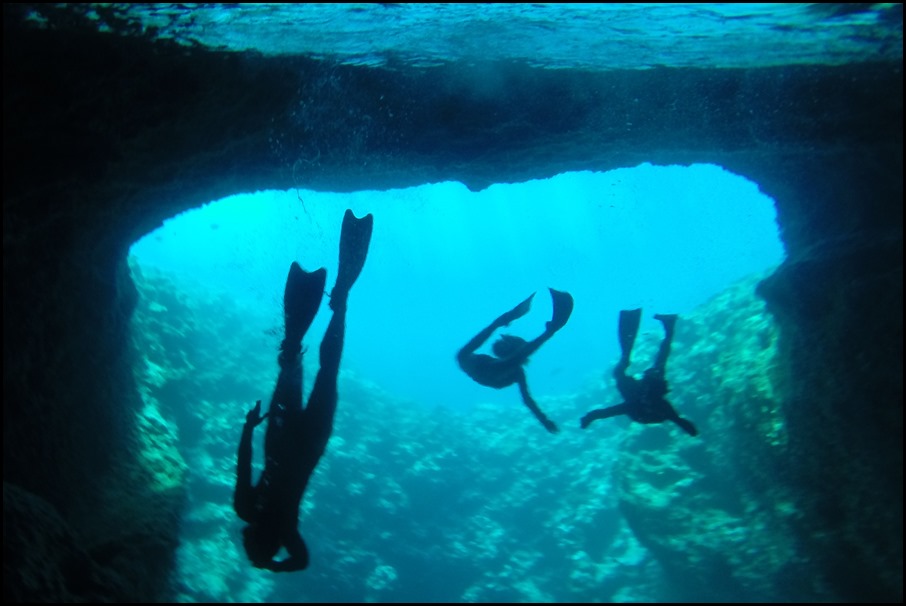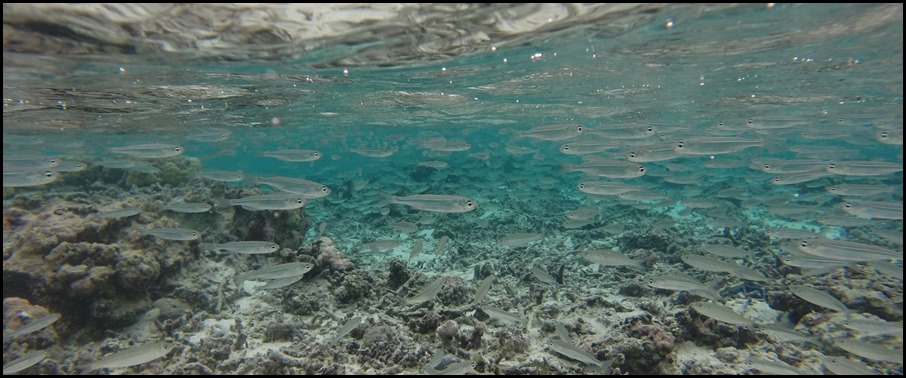 Above; Kai emerging from the entry to Mariner's cave- dive under the ledge deep into the cliff and you are in!
Above; a napolean snake eel burying it's head in the sand! The water is so clear we got to observe it burrowing for ages….
Below left; The cliffs on the east side of Kenutu were spectacular. A dense, jungle walk took us from the fine sands of the west coast to the ravaged, windward side of the island. We could never tire of pure white beaches but it's nice to get some diversity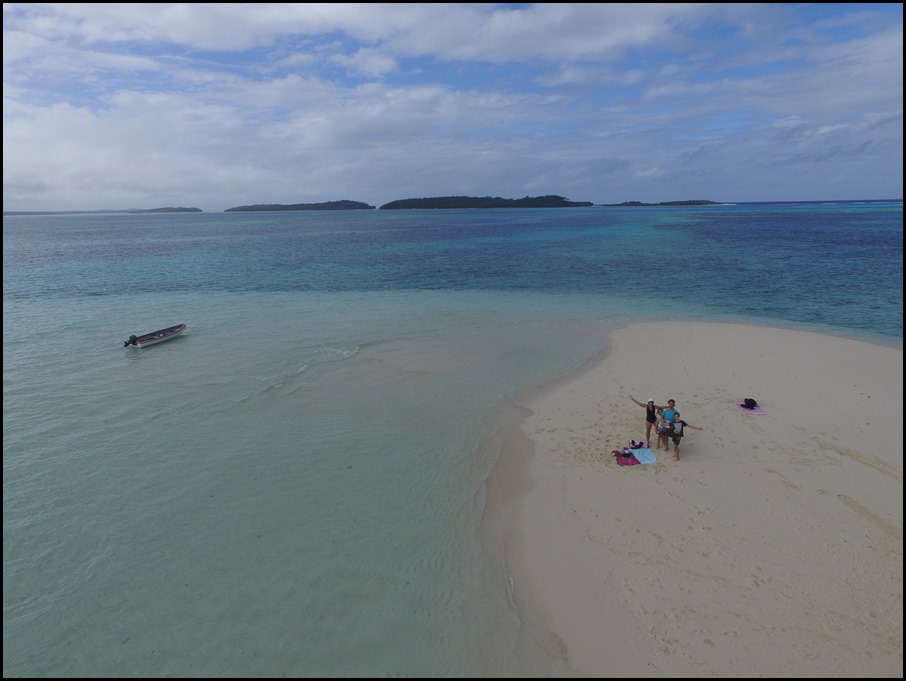 Above; a drone selfie on a mid-sea sandspit with the islands of Kenutu, Lolo and Umuna behind us.
Above and below; beautiful Maninita. We met a Swiss family of 4 who were spending a month camping on this uninhabited and remote island. Their kids were just 4 and 6 and they were doing some environmental assessment during their stay. We had them aboard for dinner and made them happy by freshly grinding them a bag of coffee. So cool to meet adventurous, kindred spirits!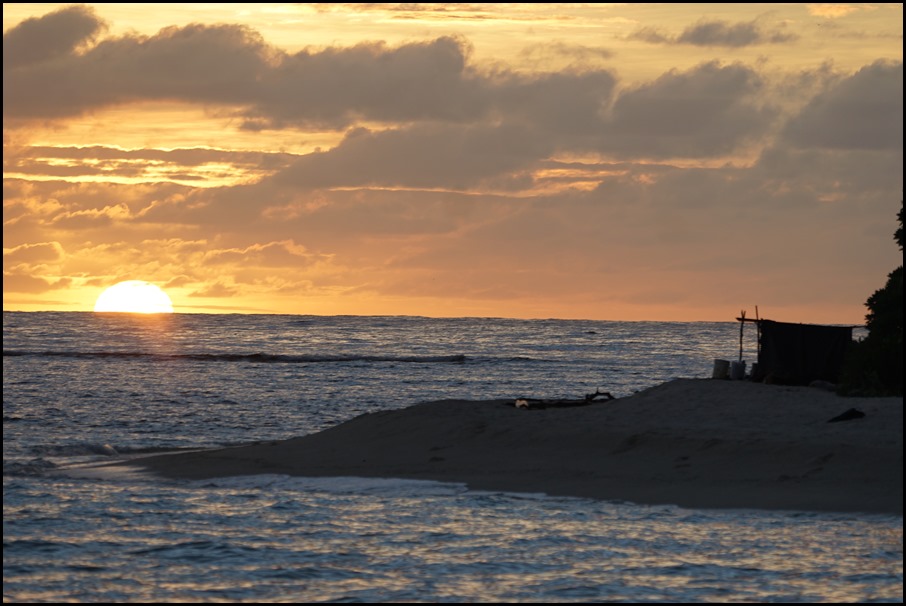 At dawn we slipped out of the lagoon at Maninita just as the sun popped over the luminous horizon. We took off back to the more remote Ha'apais on a passage that had us collide with the path of dozens and dozens of migrating whales. They breached, they played, they tail slapped, they approached Tika and hung around her bow and stern. They dived underneath her hulls and had us bursting in awe…next post!!
This entry was posted in
The Sail
.