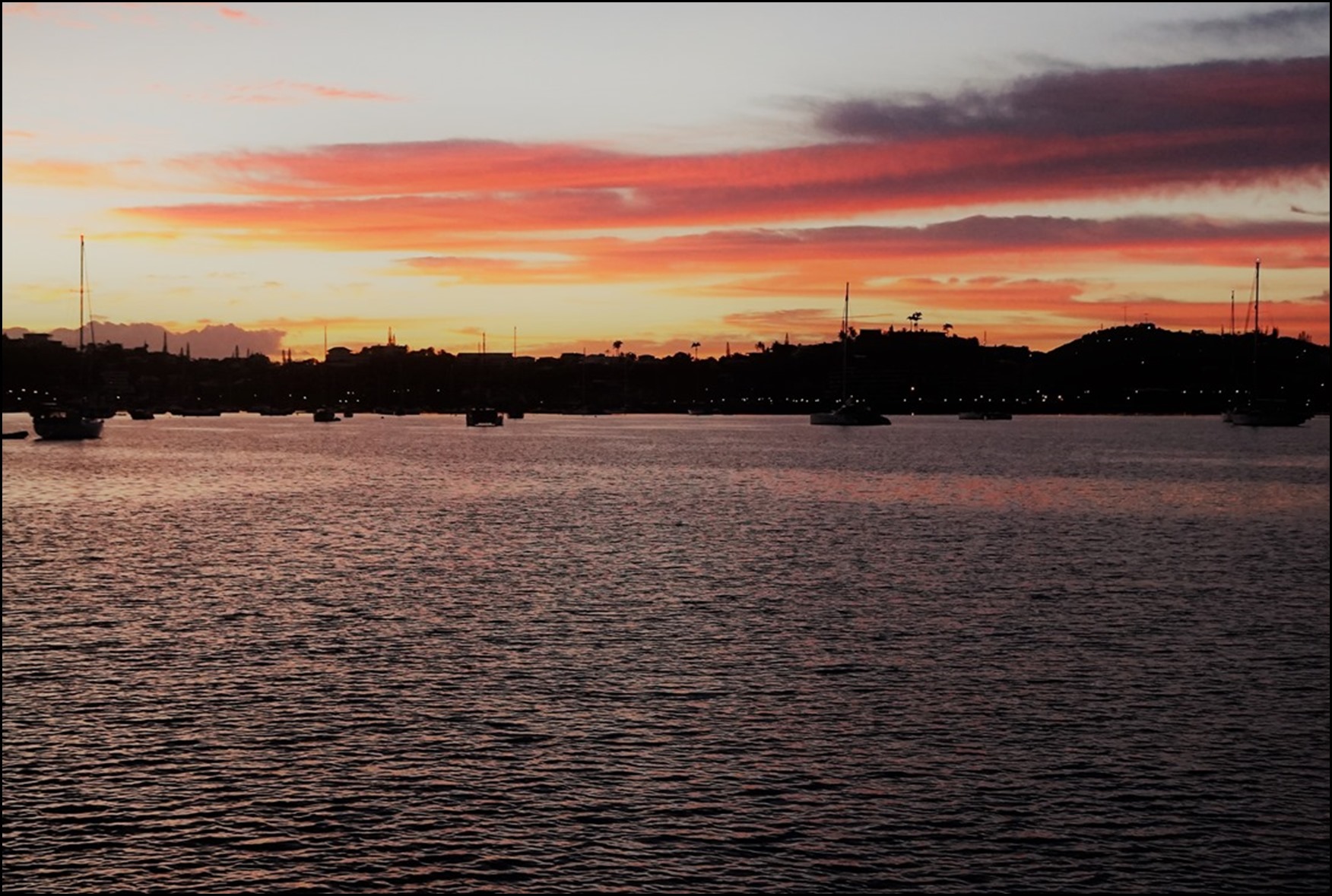 After our overnight passage from Ouvea in the Loyalty Islands, we entered the surrounding reef on the east side of Grand Terra and headed towards New Caledonia's capital; Noumea. We had not yet officially checked in to the country and needed to get the passport stamping ritual done. We did, however have one last detour to make and headed for an island called Oa…..
Our friends on S.V Skylark who we had first met in the Galapagos 2 years ago, were spending their last few days in the islands before heading to Noumea, finalising the sale of their boat and the end of their trip. With their imminent departure back to their homeland in the U.K, Jaiya was desperate to catch up with their daughter Hannah. We ignored the call of Noumea and it's legalities for a couple more days and turned Tika towards Ilot Ua….except, we didn't….
After a 24hr passage we thought we were pretty clever to make it all the way to the reef strewn island of Uo just in time for some barbequed fish on the beach with Skylark and other cruising friends. We radioed them at our approach and asked for advice on the anchorage and they thought it odd that they couldn't yet see us. "Yes, very odd- we are approaching the island now…..?"
"Wait. You are at Ilot Ua aren't you?"
"Yes! Ilot Ou?" Wait. Oh shit! We went to the wrong island…
So, the sun is sinking and Jaiya is in tears and sobbing dramatically. She was convinced that she would never ever, EVER! see Hannah again. EVER. Ever……..
We decide to turn on our rarely used engines. Both of them. And to make a second attempt at getting to UA…. It was slightly dodgey to be truthful. The reefs in that area are plentiful and navigating them is not advisable without good visibility. We used satellite images and cross-checked them with our chart and I stayed on the bows squinting into the failing daylight. We made it there right on dusk. S.V Plastik Plankton had saved us some fish, the girls where re-united and we got to spend a few days with Skylark at a truly gorgeous anchorage….  

Just in case you ever need to know; Ilot Uo is about 8 nm south of Ilot Ua, which is, of course, right next door to Ilot Vua!
Above and below left; fun sailing Tika-Taka at Ilot Ua (with Hannah from SV Skylark)
Below right; the surrounding reef at the anchorage on the north side of Ua was great for snorkelling and littered with beautiful, giant clams with mantles of various colours and intricate patterns…
Above middle; Hannah and Jaiya; sleep-overs, pancakes, snorkelling, dinghy sailing and beach fun was on their agenda….
Below; anchoring Tika-Taka while we snorkel…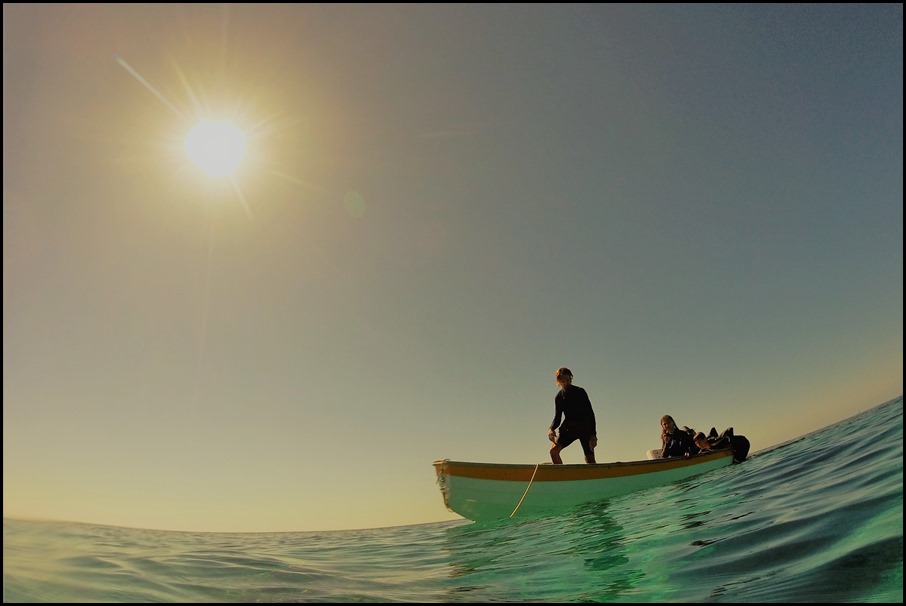 Below; Jaiya gets her first taste of SCUBA diving. She missed out on getting certified with Kai by exactly 1 week in Vanuatu because she had to be 10 yrs old and we left Esprito Santo just before her birthday. As it turns out, in New Caledonia (and Australia), you must be 12 yrs old so, after coming so close, she still has a few years to wait. But thanks to Stewart from Skylark she got to try it out and is keener than ever to get certified in 2019.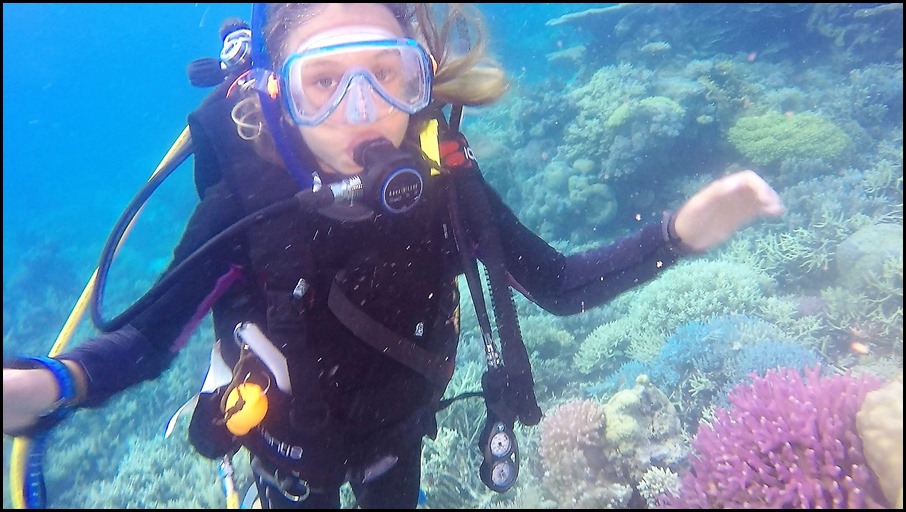 Above left; I love whip coral; the feathery tentacles sway gently in the current. They look like underwater wild flowers and they come in a variety of bright colours…
Below; many of the outer islands within the lagoon of New Caledonia are dazzling; crystal clear water, small islands with white sand beaches and some trees for shade (not palm trees but native pines- a nice change from the typical, south Pacific island coconut trees)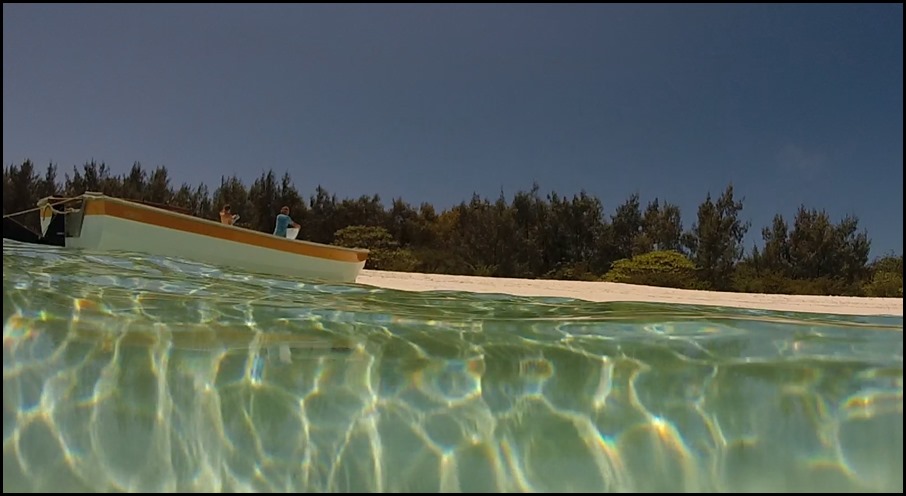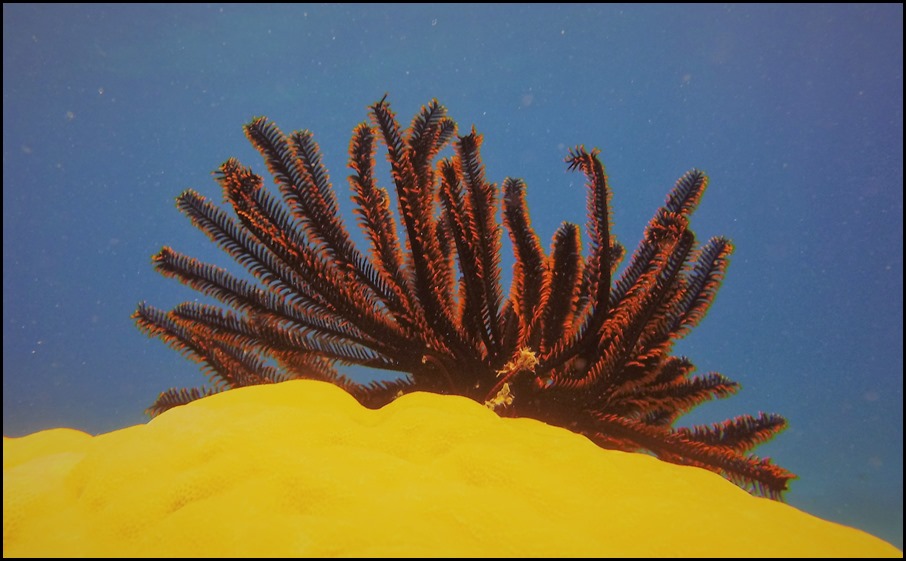 Above; I love this shot of a red whip coral on an intense yellow reef. Such interesting snorkelling here!
Well, the time to get responsible and officially check in to New Caledonia had well and truly come, so we took off to the big smoke of Noumea and anchored off the point just on the fringes of the tightly packed anchorage. A thick sea of masts, mooring balls, anchor chains, flapping courtesy flags and fleets of racing boats (above right; these guys were tacking metres off Tika's starboard side; very exciting to watch). A friend gave us a great tip for the bio security check; "take in a clear plastic bag of vegetables, hand them in to the bio officer and they won't bother coming out to your boat" It worked a treat and we avoided having the officials aboard Tika. Customs and immigration was done at their office and was quick and easy. Phew! we are officially 'in' New Cal!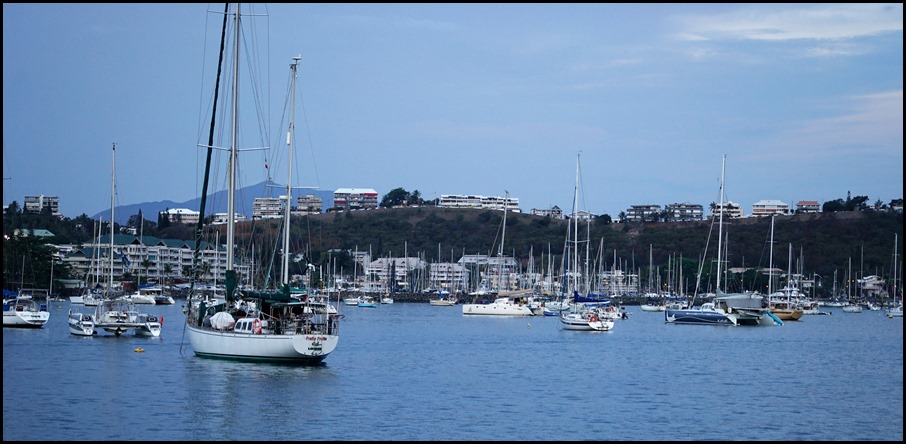 Above; the anchorage at Noumea with Mont Coffyn in the background.
Below middle; Noumea and surrounds have good roads and services and enough French architecture, boulangeries, Parisian boutiques and swanky resorts serving good champagne to pool-side guests to remember who colonised these islands…but, Noumea itself is actually quite run down. And the significant cultural and economic divide between the Kanaks (New Cal's indigenous people) and Caldouche (locally born descendants of Europeans) is evident on the streets. Outside of Noumea, the island of Grand Terre is basically just one great big Nickel mine and other than some hikes into the elevated interior, most yachties spend their time out in the smaller and outlying islands.
After suffering terribly in the years after the Europeans arrived in the 19th Century the Kanaks of New Caledonia are heading towards independence in a referendum late this year. There is change afoot and tension in the air. In 2015 a law was passed that only indigenous Kanaks and Europeans enrolled back in 1998 will be eligible to vote on independence. 
Meanwhile on Tika (despite the evidence of lazy days snorkelling, sunbathing and sailing around tropical bays on Tika-Taka found in the pictures further up) school, boat work and daily domestic chores take up most of our time!
Above left; Kai's turn to cook and;
Above right; Jaiya checking the chart to make sure we are on course (we use an ipad in a life-proof case as our main navigation tool)
In Noumea, we also provisioned, purchased school supplies, re-filled our propane, topped up on diesel and dinghy fuel and caught up with a bunch of cruising friends. Provisioning itself was entertaining…..
Without the use of a car, yachties look for supermarkets close to waterways where dingies can be used to transport bags and bags of supplies. The closest supermarket to the bay in Noumea is the 'Casino' across the road from a steep, concrete embankment with a 2-3m drop (depending on the tide) to the water.  You weren't allowed to leave your dinghy there so one of us had to drop the others off and return at an allocated time. A ladder pinned to the vertical edge promised to be a useful thing and to be fair, without it, the task would be near on impossible. The problem is that at some point it had been smashed by a boat. A large boat. a ship probably. And it now sported quite an uneven incline or rock-climbing type overhang….
Getting up the stainless steel over-hang wearing a pair of thongs and a handbag is a fun challenge, but getting down with a trolley-load of groceries is like some kind of extreme sport. Consider the 100 eggs we purchased to support Russel's 3 egg breakfast habit….Kai is on his toes on the rail of the dinghy and I am leaning precariously over the edge trying to pass him  the precious but bulky bag. Next come the heavy tins and bulky goods….
It goes without saying that this very physical dinghy loading process comes complete with an audience. It's a waterfront cafe strip you see. During the day, civilised people sit and sip perrier water, lunch on chicken salads under crisp white umbrellas and watch the goings on with sly smiles on their faces. In the evening, the cafes are closed, the area is dark and shadowy and drunks lurk in the corners (also with sly smiles I am sure- we were very entertaining!) During our time in New Cal we came to Noumea for supplies 3 times and visited the Casino at least twice per visit so we got good at navigating that ladder! The time we shopped in the evening was one of our first times there and Jaiya and I were dropped off, the drunks were lurking and Russ was late picking us up. He got disorientated in the dark (you know how things always look different in the dark?) and we could see him whizzing across the bay looking for us trying to work out where he had dropped us off… As a fellow yachtie said to me recently "if you're not exhausted and bruised after provisioning, you're not cruising!' So true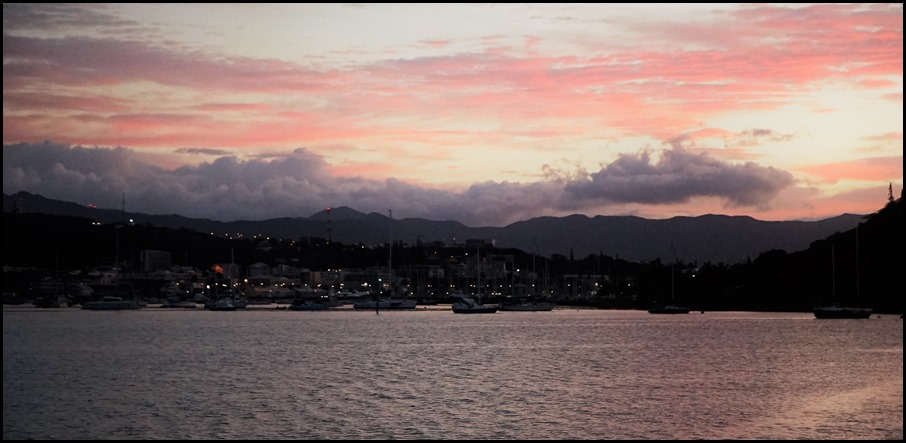 Next post- we don't get very far…we cross the channel to Ilot Maitre, found a snake-infested windsurfing heaven and stay for 8 days!

This entry was posted in
The Sail
.