After tearing ourselves away from the luscious embrace of the Gadji lagoon we stopped at the islands of Kuare, Ua and Mato on our way back to Noumea…..
Russ went up the mast to check the rigging…it's hard on the thighs but a great view!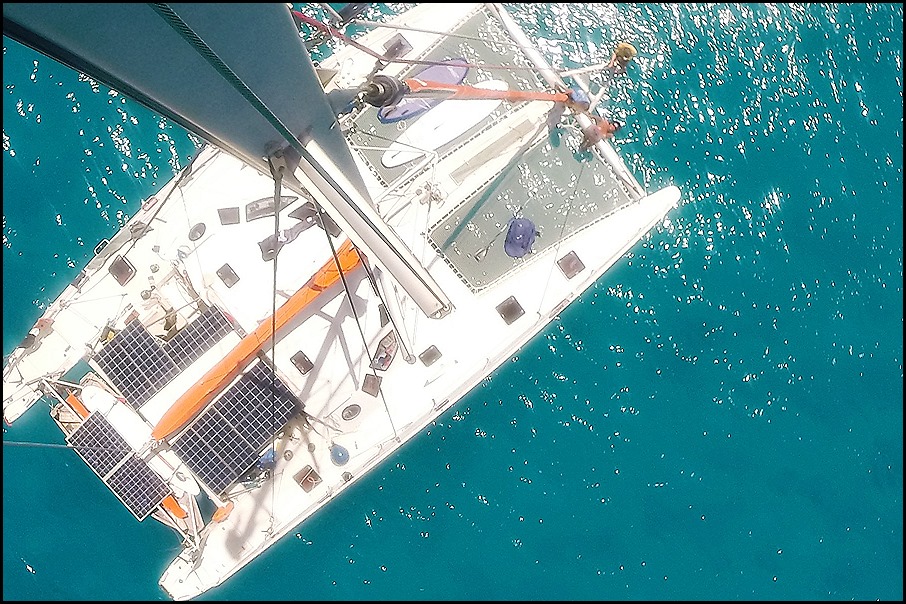 We met up with Steely Dan (with 4 kids aboard); a boat we had briefly crossed paths with in Vanuatu. Our French friends on Excallibur also came to Kuare so we had a few nights of beach get-togethers, shared meals, drinks and games by the fire…
Open cut nickel mining and cattle-farming has caused deforestation, erosion, reef damage and pollution of rivers, streams and lagoons on New Caledonia's main administrative island of Grande Terre, but thank-fully, the outer islands remain pristine. New Caledonia has 1600km of reef and is home to the largest enclosed lagoon in the world. UNESCO has declared it (in 6 clusters) a World Heritage site….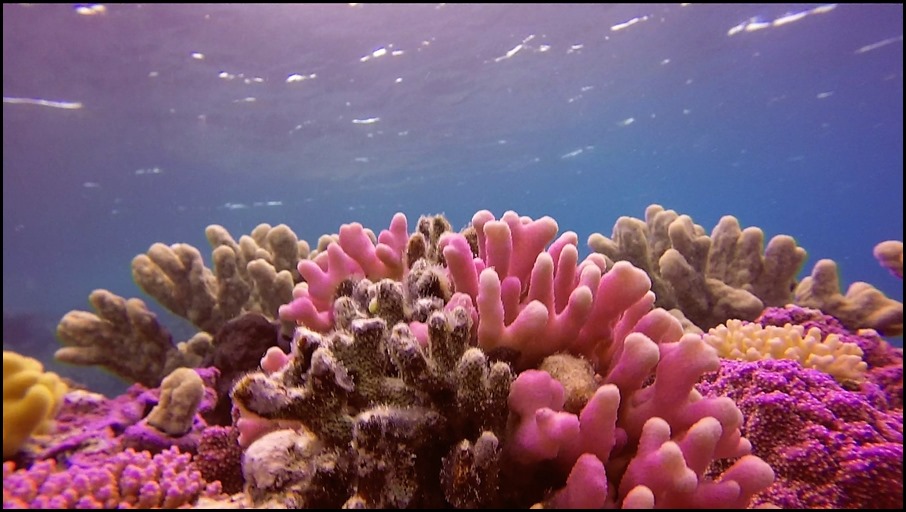 New Caledonia is teeming with sea snakes or banded sea kraits. At times it was difficult to avoid them when walking along the beach or snorkelling the reefs. Mostly, we saw the orange/brown variety but at Ilot Maitre there was one with bright blue and black stripes. They are quite curious and not afraid of people at all. They are also highly venomous but luckily not aggressive.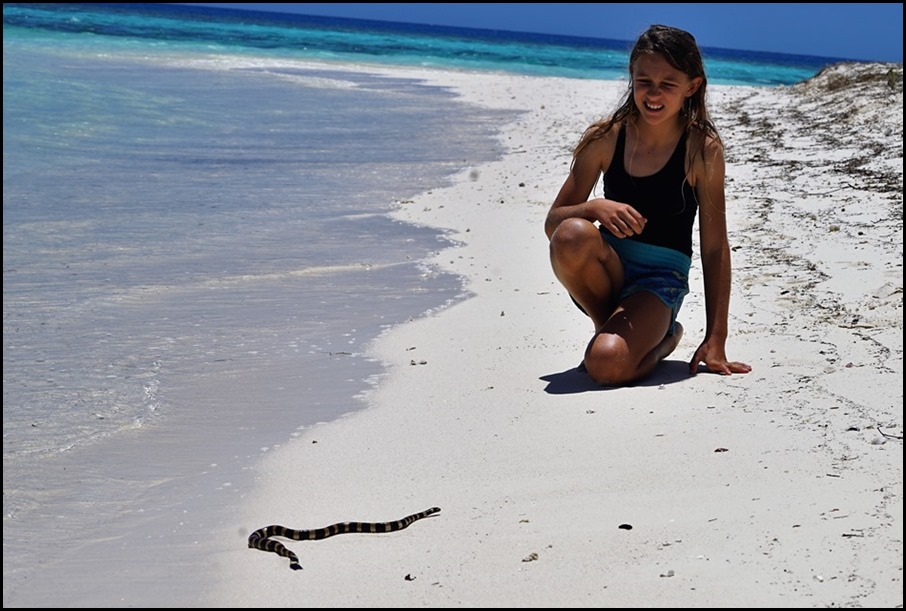 The amphibious banded sea snake has a flattened, paddle-like tail, airtight nostrils and can stay underwater for up to an hour. While snorkelling, we saw them actively hunting; probing crevices and cracks along the reef in 5-10m of water. They move fast and gracefully underwater and fairly slowly onshore.
Below right; Jaiya was very happy to have the girls from Steely Dan around. One afternoon they all got together on Tika and whipped up a cake (with limited supplies!) for both families to share….
Above right; we were heading fast into cyclone season in the tropics and it was time to start thinking about our passage to Australia. We will often brainstorm schedules with destinations and timeframes so that we have a rough plan to move to. We were trying to work out the best port of arrival and if a goal to spend Christmas in Melbourne was attainable without pushing Tika and her crew too hard. Another cheeky idea also started hatching for one last Pacific atoll visit before our imminent arrival back in Australia. It's amazing how brainstorming sessions like this can clarify, modify and some-times completely flip our cruising plans.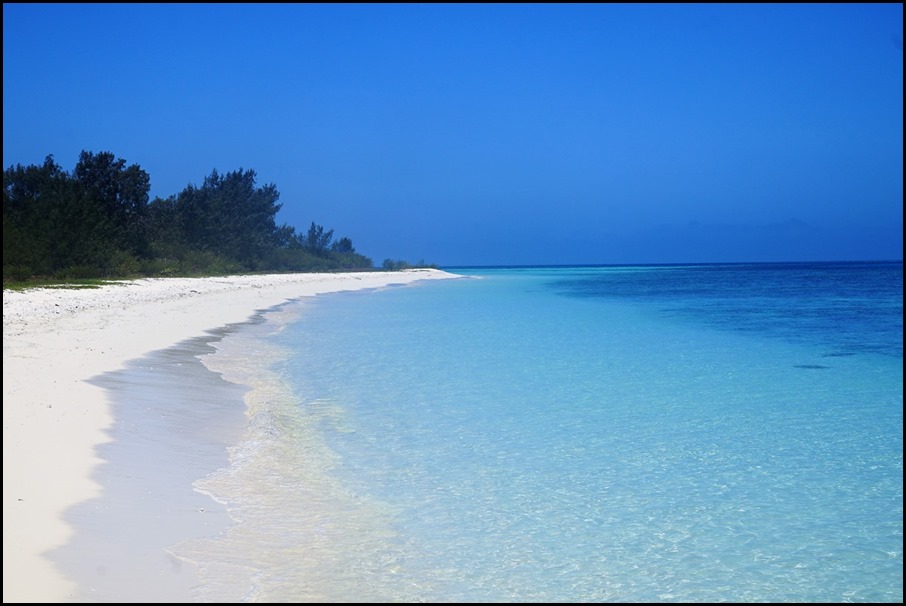 Frequently, we sighted the deep, glossy brown wingspan and white underparts of an osprey coasting over the waters around the outer islands. Their chunky nests were low lying, chaotic bundles of twigs and we found them on our walks around most of the islands we visited.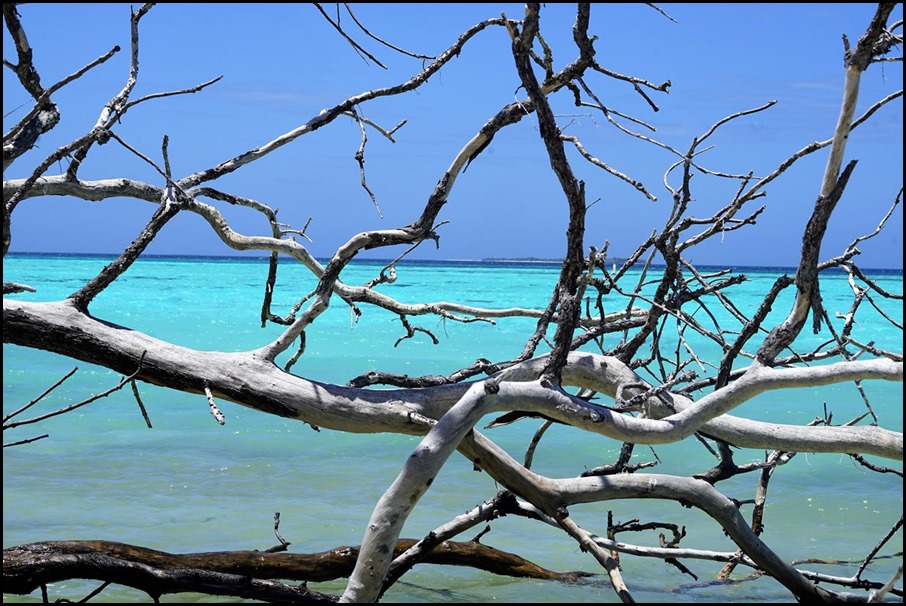 After our days in Kuare and another brief stop back at Ua, it was time to slowly head north. Mato island was our last pitstop before returning to Noumea.…
Above left; my favourite position in calm waters; on the bow day dreaming….
Above right; we climbed up the hilly islet of Mato to get a vista of Tika nestled below in the protected anchorage within surrounding fringing reefs. 
A quick stop at Noumea (below) to check out and we're off! We are supposed to be heading west to Australia but turn right instead and bee-line north, for one last sojourn at a remote, uninhabited, mid ocean atoll; Chesterfield Reef!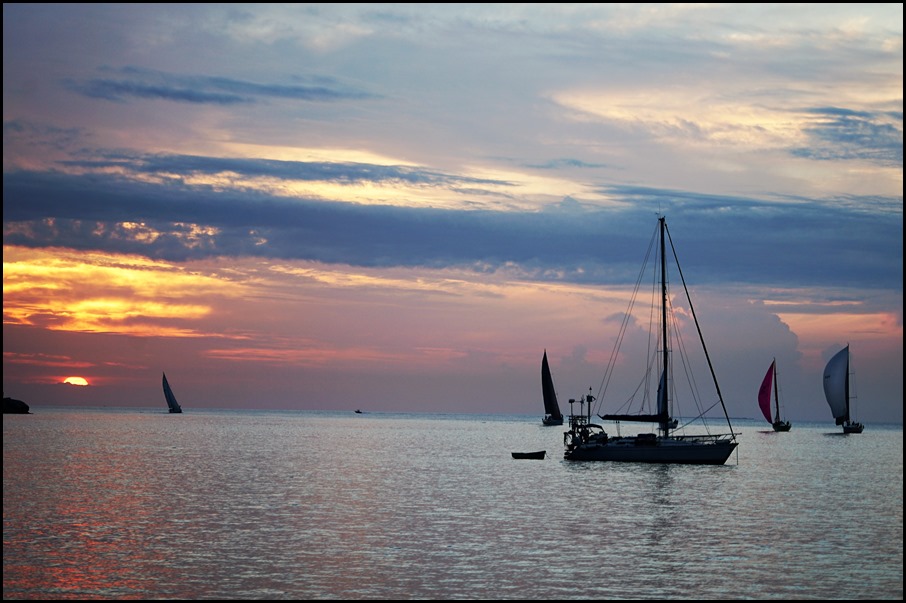 Next post; New Caledonia; the movie…. 
This entry was posted in
The Sail
.