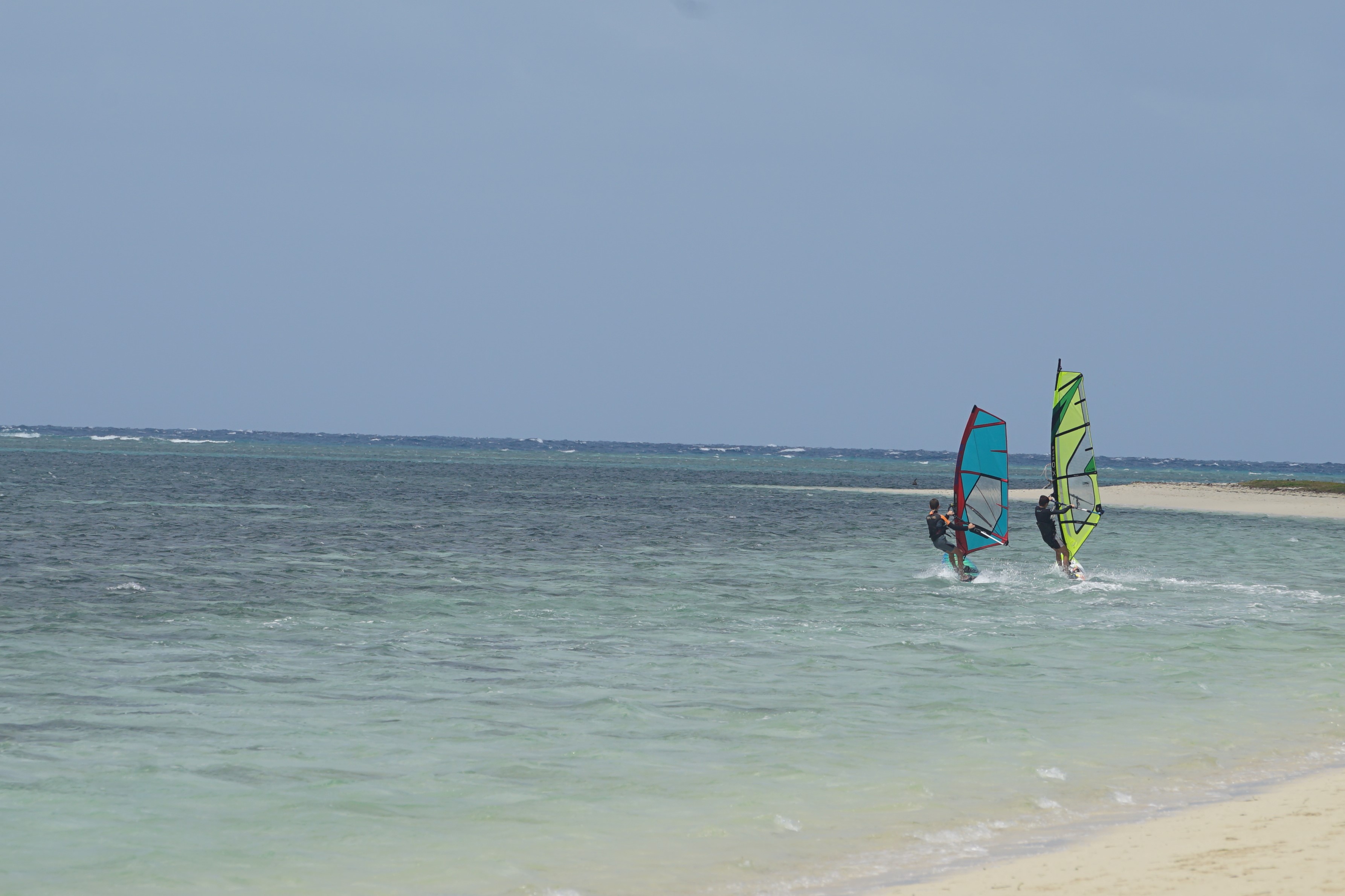 Our friends on SV Fluenta had been cruising New Caledonia for about a month by the time we arrived. We had made plans to catch up, hang out in a nice anchorage together and get some water toys out. It was a surprise to see that they had settled in Ilot Maitre- a small island literally only 4 miles across the channel from Noumea city. It looked crowded as we passed by on our way into town to check in and (given the choice of beautiful, isolated atolls around) our initial reaction was that Ilot Maitre wasn't quite what we had envisioned! Oh well….. it is an unwritten rule when cruising that plans, like weather forecasts, transform quickly and often and are made on the proviso that they may change at short notice and with wind and tides! We decided to stop by briefly to say hello to Fluenta before heading out to find our atoll anchorage…
….8 days later we were still there! Ahhh ok we get it now- it is actually a perfect windsurfing and kiting place! Consistent wind, shallow water for at least a mile off shore… nice beach…did I mention the windsurfing? Good choice Fluenta! 
Some days we had a morning windsurfing session before school and other days we did a late afternoon session. Some days we did both!
Above; Kai on his 50l custom board and Jaiya on her 8ft inflatable Kona board.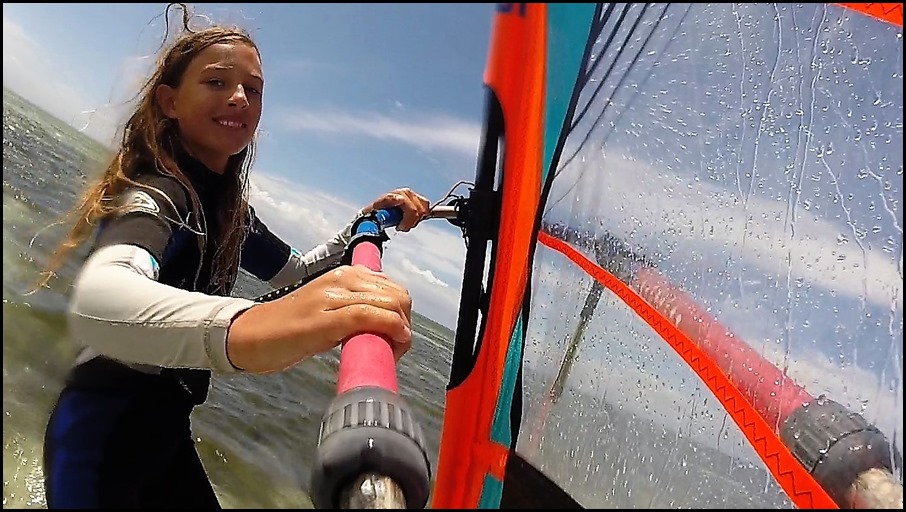 Ilot Maitre was thick with turtles and as you windsurfed along they would shoot out in front of you to get out of the way…
Below left; Jaiya and Victoria (S.V Fluenta) chilling out on the beach in between runs on the windsurfers…
Below; Kai and Charles from French boat S.V Excallibur. It is rare for Kai to find a boy his age who shares his passion for windsurfing. They stuck together for the entire week and it was hard to get them off the water…
Below; Tika's junior windsurfing team with matching Severne sails. They both improved so much with so many hours on the water. By the end of the week Jaiya was planing on Charles' 95L board as well as on Kai's!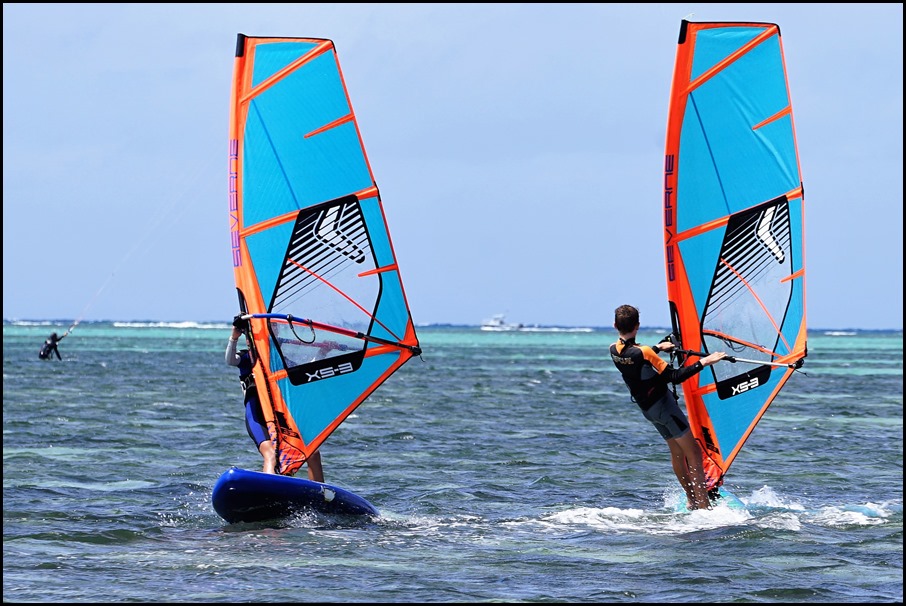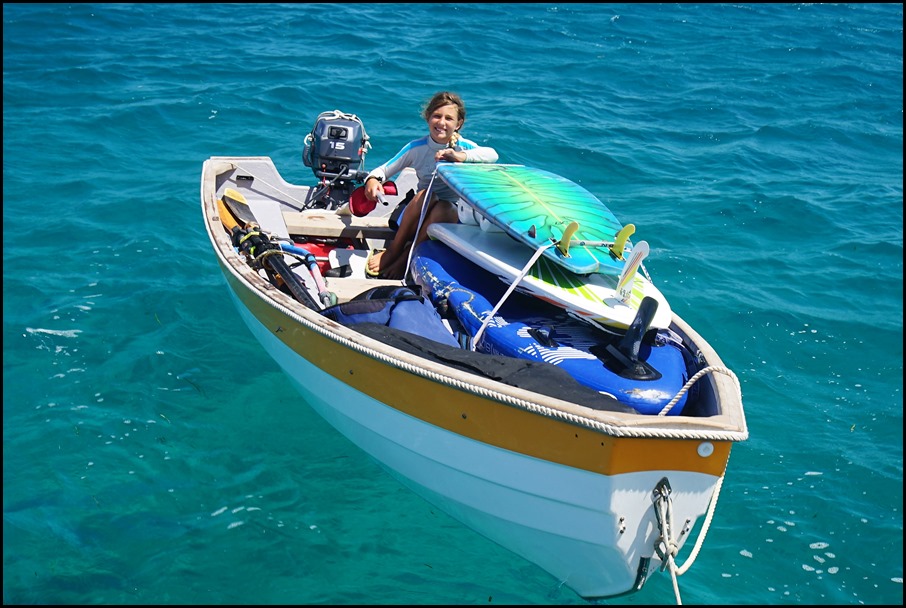 Above; doing the dinghy run with a stack of boards- Russ and Kai also sailed 2 more rigs straight from Tika! Once we got all the gear to the island, Russ the rigging slave swung into action…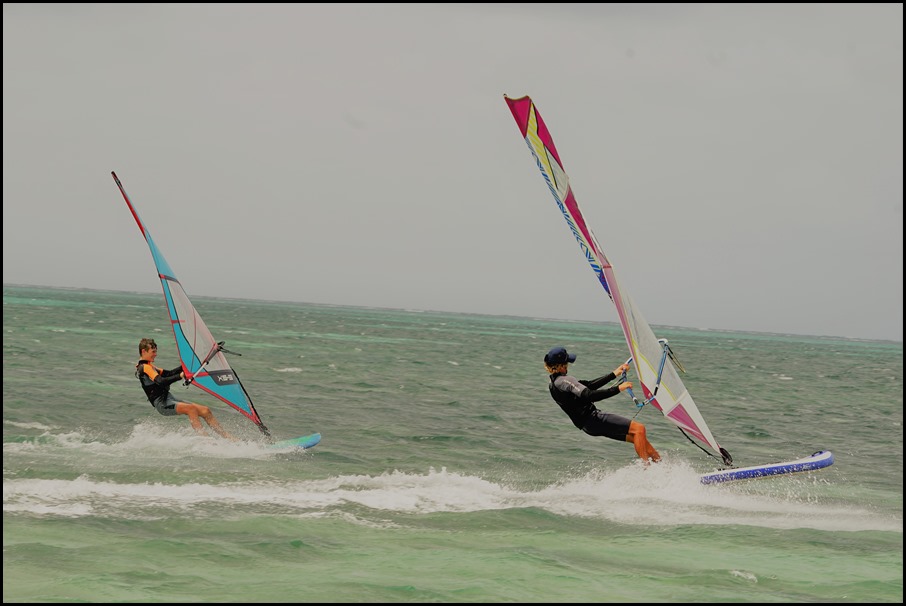 Above; father and son team…Kai first went for a ride on Russel's board when he was two. He had his own sail when he was four and a custom board at ten. Now, at thirteen, he is just starting to do some little jumps off waves… 
Below; Captain Underpants celebrated his birthday in Ilot Maitre and the cruisers in the anchorage got together for an impromptu party… He got to drink champagne, received a number of handmade gifts (and wine!) and Florian from S.V Esperanza bought his guitar so we all got to sing him happy birthday…
Below; Jaiya is the baker on Tika and she made Russ the most delicious baked cheesecake ever!
Below; kids teaching kids. Between ourselves and Excallibur, we had a decent amount of kids windsurfing gear. We shared it around and Kai and Jaiya gave the other kids a few tips where they could. Victoria and Johnathon from Fluenta and Charles' younger brother Paul from Excallibur were super-keen…. 
Click below for Kai and Jaiya windsurfing action…
 Next post; We do eventually leave Ilot Maitre (with blistered hands from a solid week of windsurfing…)and head down towards L'Île-des-Pins (the Isle of Pines) We allow ourselves to be embraced by a lagoon with crystalline waters and time stands still for nearly 2 weeks… 
This entry was posted in
The Sail
.