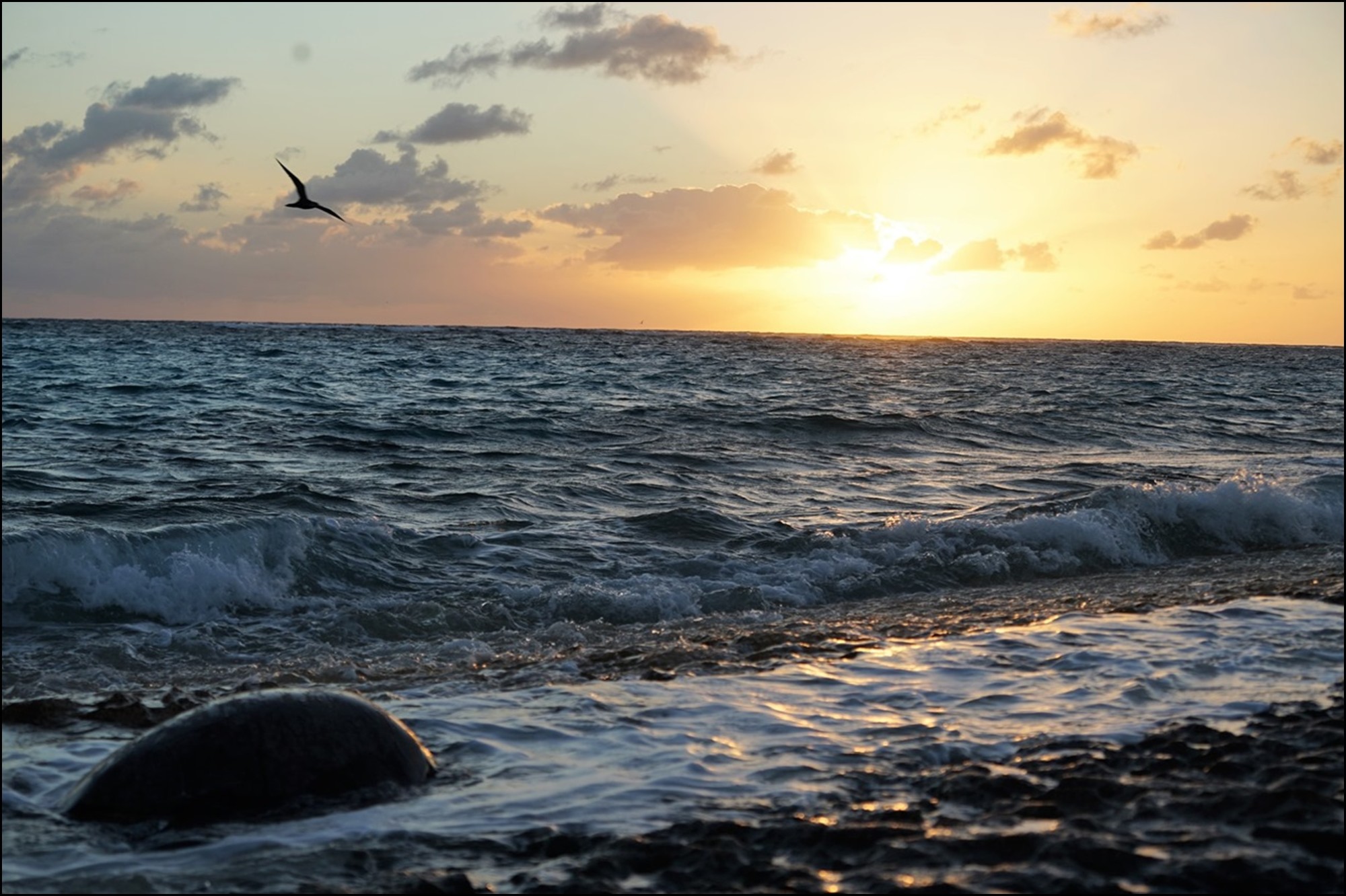 The Tika team Left Noumea knowing that the time to head to east coast Australia was coming close, but simply not feeling ready. We decided to sail north to Chesterfield Reef instead; 11 uninhabited islets and fringing reefs situated in the Coral sea, about half way between New Caledonia and Australia. We sailed 550nm north west from Noumea to get there…
After 2 bouncy days at sea I started wondering what the hell we were doing…it occurred to me that taking an extra 2-3 days to get to a reef smack bang in the middle of nowhere (only to then have to do the return trip) was insane. We were adding 2-3 days to our passage to Australia, and cyclone season was snapping at our heels. We had been told that the bird life at Chesterfield is incredible and that we may get to witness turtles laying eggs on the beach, but really, I wondered if we were just avoiding the inevitable; having to finally leave the South Pacific behind! Our imminent arrival on Australian shores felt like the beginning of the end of our trip. We didn't want to think about that so we pushed on further north…
Above; the chart (left) of our trip from Grande Terre, New Caledonia to the French owned Chesterfield Reef and (right) a satellite image of the hook shaped lagoon with waypoints to help us navigate around the bombies and reefs.
We arrived in the eastern anchorage to find a string of wild, rugged, untouched, low lying atolls, A barrier reef surrounds the deep lagoon and the southeastern outside skirt gets pounded by the relentless trade-winds. I love places that have a wild side as well as a peaceful lagoon- it's cool to experience both via a short walk across a coral atoll or sandy isthmus … 
Chesterfield is a place of stunning beauty and an outpost that is a sanctuary for seabirds and marine animals including sharks and massive green turtles. We saw turtles locked together mating in the lagoon, their bulky bodies splashed and rolled languidly and an occasional flipper would extend out of the water and remain there for quite some time. Oh and birds! Lots and lots and lots of birds.
The birds!! Deafening, raucous squawks, screeches and the heavy aroma of guano permeated the motus of Chesterfield Reef. It's a massive, mid-ocean, sea bird rookery! Soaring frigates, beach-combing terns, black noddies and masked, brown and red-footed booby birds fill the sky, the low, gnarled shrubs and the beach… The are not afraid of people. A booby bird would honk a little to let us know we were getting too close but only if she was sitting on eggs or coddling a fledgling. Otherwise, if we came walking along, they wouldn't even bother moving and we would need to edge around their chosen pad of shore-line. There was a perpetual cloud of birds overhead and we would regularly hear low flapping and feel a wind gust as feathered wings and 4 outstretched toes attempted to land on our heads!
Above right; Chesterfield is littered with turtle nests. Turtles are usually fully aquatic and the only time they come ashore is when the females lay their eggs. Apparently, they will look for the same place to nest every year. We certainly saw a lot of flipper tracks criss-crossing from the shallow nests all around the atolls. They weren't direct tracks from the nests back to the water so we imagined the turtles moving around in search of their annual nesting place.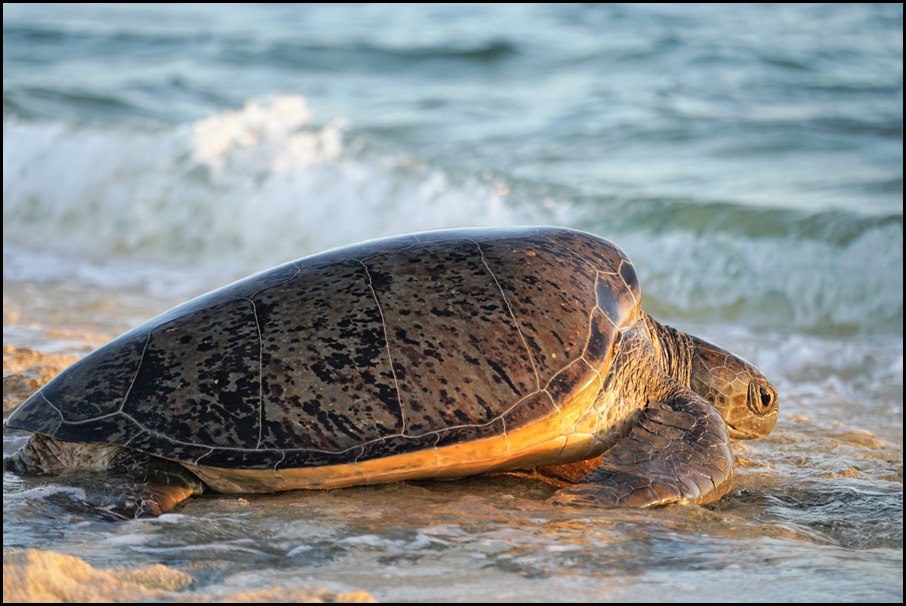 The green turtle will lay several batches of eggs at 2-3 week intervals. A hole is excavated with her hind flippers and about 50-150 eggs are deposited. She then covers the eggs with a layer of sand…
We hung out ashore after sunset to look for a turtle laying her eggs. We also rolled, blurry eyed into the dinghy at 4am to witness the sunrise and two more turtles making their laborious journeys back to the sea. It was painstakingly slow…gather up some energy, move the flippers with huge effort to shift the enormous body forward about 20cm. Stop. Slump, Rest. Big breath. Gather energy. Move 20cm. Stop. Repeat. Rest. Repeat for hours….I was nearly heart broken when one of them finally arrived at the shore only to be confronted by a 3m long, sharp rock that barred the way into the waves. She had to turn right and detour around the rock before she was free. We had to resist the urge to pick her up and over the rock! 
The frigates (above) are large, slender birds and acrobatic flyers that gain amazing heights gliding on updrafts. They are a formidable presence in the sky due to their size, black plumage and forked tail. They are also pirates. They will regularly attack other birds mid flight. When they strike, their victim either drops it's catch or regurgitates the contents of its stomach giving the frigate a 'free lunch' as it were. They are also known to snatch chicks out of nests…. 

Above; nearly there! we watched this mama for about an hour as she made her way to the water's edge. We felt like cheering when she finally got there!
Above right; the booby chicks were little white fluff-balls. The boobies nest in the shrubby trees while the noddies nests' were scattered right on the beach among rocks. 
Above left; a red-footed booby
Above right; the frigates have vulture like beaks and look pretty evil when their heads spin 180 degrees from their body!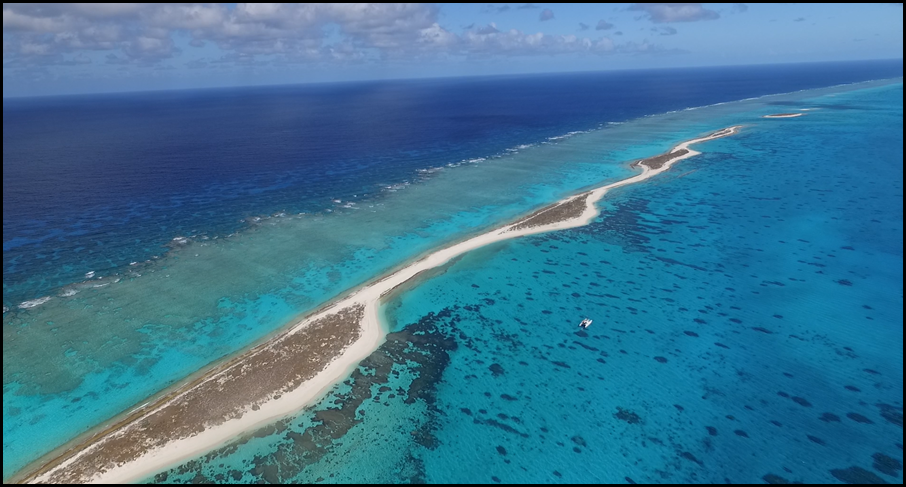 Above; spot Tika! The unique thing about Chesterfield Reef is that it really is a protected anchorage right in the middle of the ocean.
Below left; a black noddy- nests on the rocks along the beach…

Above; sunrise at Chesterfield reef. Good. Morning.
Above left; another green turtle making her way back to the sea after an egg-laying session…
Below; one night only we had 4 boats in the anchorage. The other 3 were on route to Australia from Vanuatu; we had a social moment by the fire…. who would have thought we would have so much company in this isolated anchorage?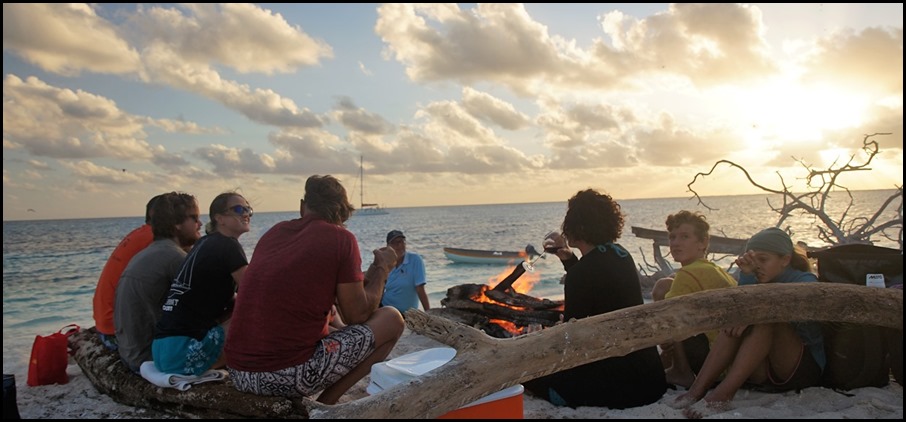 Below; then there were two. Tika and SV Sprout…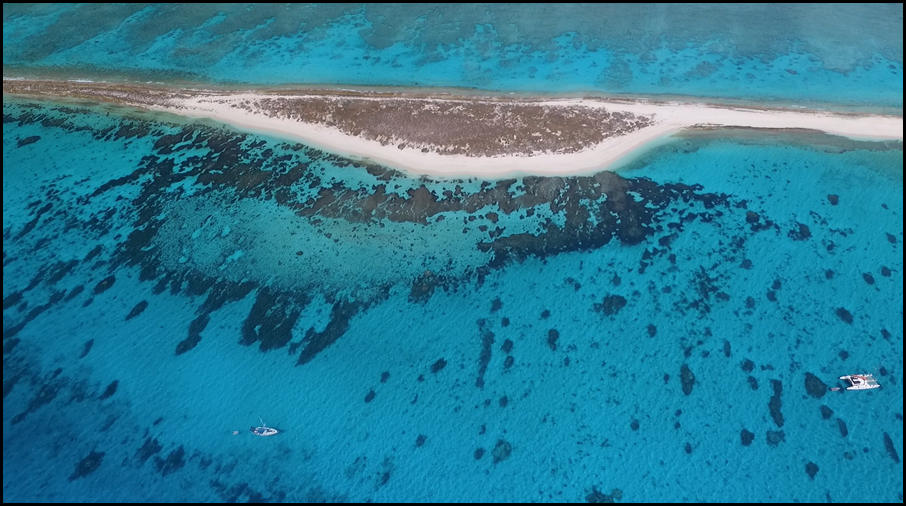 Above; the exhausting work of getting back to the ocean…
Despite knowing that there is a large shark population in Chesterfield reef and hearing recent stories of one particular, 3m, resident tiger shark that had been cruising past anchored yachts, we went to check out a bombie for some free-diving and snorkelling and it was really nice! I have heard the deeper diving is fabulous. We saw a couple of reef sharks but no biggies!
When we visit places like Chesterfield we are acutely aware that not many people get to experience it and feel blissfully grateful. It is not an easy place to get to and the remote beauty is mind-boggling.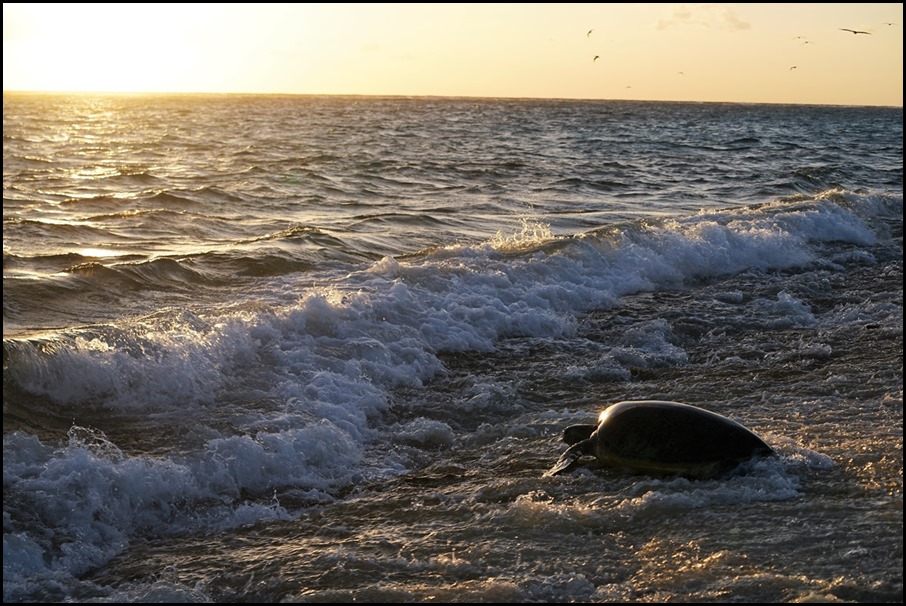 Above; She made it!! we shared her joy as she disappeared into the waves after what must have been a long, weary night of egg laying and torturously slow land travel back to her home….
Next post; a 2 minute flick of Chesterfield Reef… 
This entry was posted in
The Sail
.