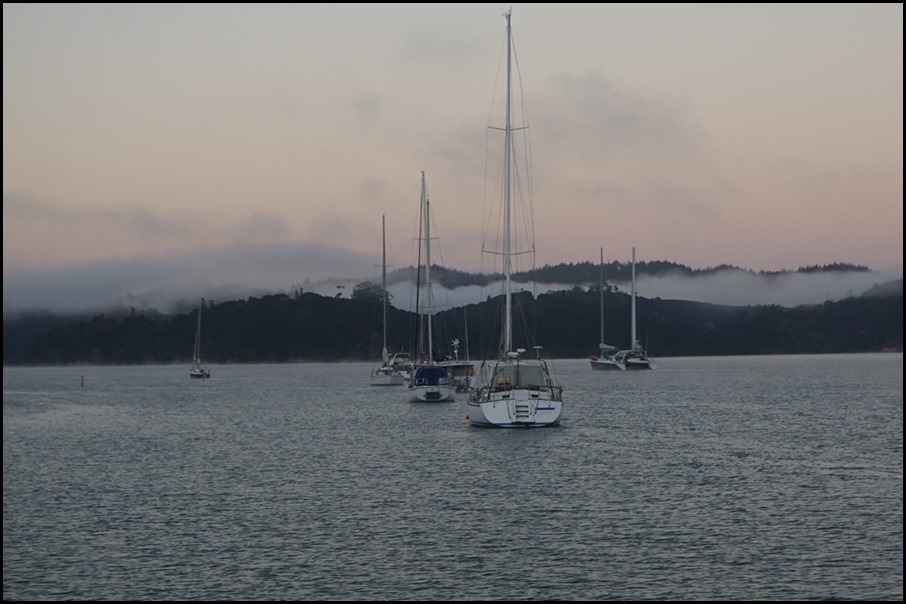 We pulled up the anchor from Oneroa Bay, Waiheke Island at 3am and took off in winds gusting to 35 knots with jacking seas. It was freezing cold and we were both in our bulky zuit suits. It was one moment I remember finding the power of the wind quite confronting- something to do with being ousted from my bed at some ungodly hour in freezing winds that whine and shrill like a banshee through the rigging. We were navigating out of the bay by our track in (following a dotted line on an ipad.) The howling wind and nearby, rocky headland that I knew was there but could not see seemed especially menacing in the pitch black of pre-dawn…. "shit Russ, I'm scared!"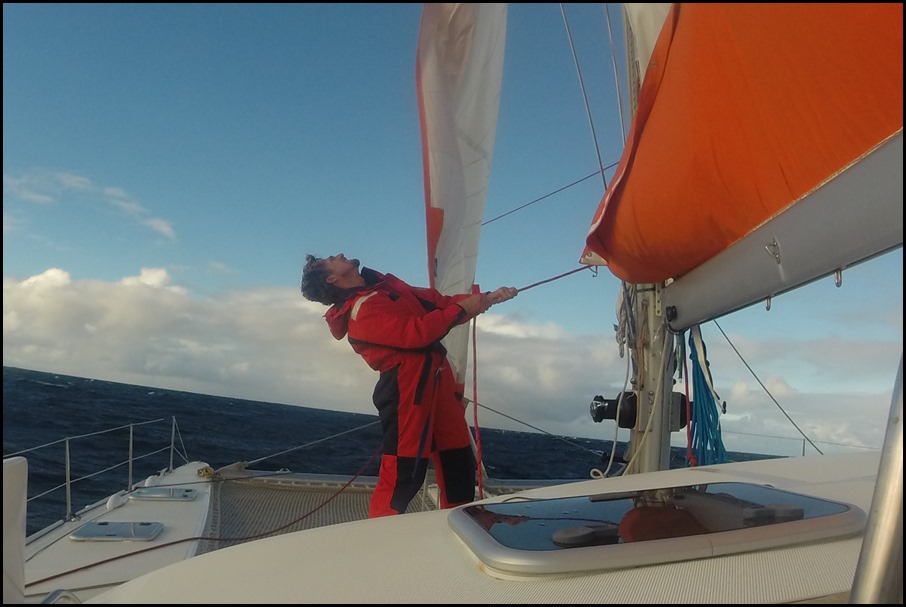 Above; once the sun rose and we had rounded Cape Rodney, we had a beautiful sail all the way up to Opua. We dropped the anchor at 5.30pm in 'our spot' and we had officially completed our circumnavigation of New Zealand's North island. We quickly settled into a routine of obsessing over weather and getting Tika passage ready for our trip to Tonga…
Kai and Jaiya jumped straight back into the weekly youth sailing program and could be found zig-zagging between the anchored boats in optimists, 420's and splashes.
There were at least 50 boats sitting in Opua waiting for a weather window to Tonga, Fiji, New Caladonia or Tahiti. The cyclone season officially ends on May the 1st but it seems cyclones don't always adhere to that arbitrary line on the calendar. Not 1, not 2, but 3 tropical cyclones caused havoc around Fiji and New Caledonia in the weeks after this date and this meant a wait for the right weather to make a run to the islands…
It was like the anticipation of a horse race. We were all lined up in the stalls, nostrils flaring, pulling at the bit, legs skittering, muscles tense, waiting for the gun to fire with the all clear to go! To release the pent up energy, tear out onto the track, feel the wind in our hair and the salt spray on our faces. To get back out to sea and the islands beyond…
Talk on the radio, in the marina cafe, the yacht club and over coffee and sunset drinks on various boats, honed in on leaving date possibilities and weather analysis. Every morning Russ could be found hunched over an ipad, checking grib files, weather models, swell reports and radio check ins/reports from vessels already at sea. The Island Cruising Association rally had 35 boats poised to leave more than 2 weeks after their original, estimated departure date. You could almost taste the collective desire to get back to the tropics. As New Zealand winter descended and with the sailing season officially open, everyone was getting impatient but the right weather window was not yet forthcoming….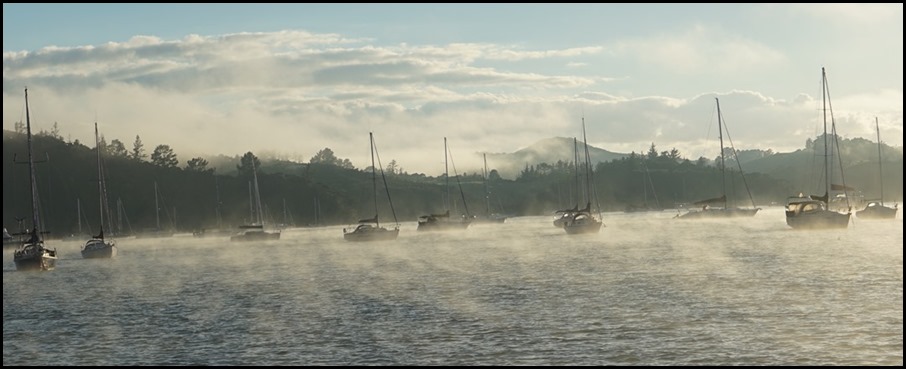 Misty mornings in Opua were quite stunning. We anchored off the marina but still got to enjoy the laundry facilities and the social aspect of having some cruising friends accumulating in one place after 6 months of various agendas; flights home, boat works, visitors, road trips and exploration of the many cruising delights of New Zealand during cyclone season in the tropics.
The kids from S.V Enough and S.V Jade who have been based in Whangarei came up for a visit (by road) and we had a fun, kid-boat sleep over. We took off to our favourite Bay Of Island's anchorage (Okahu Passage at Waewaetorea Island) so they got to free-range and play…
It was so very good to get these boat kids together and (once we had bribed them off screens and devices,) see them roam and explore what they had previously dubbed 'kids cove' with a steep, grassy access to a cave, private beach and an abundance of climbable rocks! Russ and I rowed Tika-Taka around to the cove, walked up the hill and then relaxed on the beach while the kids played endlessly on what felt to be one of the last warm days of summer in New Zealand. Certainly, it is the last time for 'we're-not-sure-how-long' until these kids get to hang out again….
Above left; Okahu Passage…. our favourite anchorage in the Bay of Islands…
Above right and below; our massive provision… $3400NZ worth of groceries! It probably wasn't truly necessary to do such a serious shop in New Zealand. I don't think Tonga is great for provisioning but certainly most of the basics are covered in the major towns. We know that the main islands of Fiji have large supermarkets and are cheaper than NZ for most items. Our motivation comes from memories of walking down hot, dusty roads with all four of us carrying backpacks straining at the seams with provisions. And it's those big, heavy or bulky items that make those trips hard; laundry liquid, tin cans and big, bulk-buy toilet paper packs. We decided to stock up on all those items so that we really only need to worry about fresh produce until we get back to Oz late this year. Countdown (New Zealand's Woolworths brand) delivered to the dinghy dock. Tika-Taka was pretty low in the water on her way back out to Tika. In a separate order we filled our freezer with vacuum bagged meat. Tika was full to the brim! Here's how the unloading, stowing went… 
The psychology of provisioning when one is about to leave the comforts of a first world, western hub is interesting. Ordering online is convenient (the closest supermarket to Opua is a 35 minute drive away and we don't have a car) but clicking quantities is too easy…(oooh we need at least six of them..and ten of them…and 6 month supply of those!") We noticed a grabby anxiety creeping into our rational thoughts, coupled with a sickening hedonism at the sight of so many consumables! Still, it's a good feeling knowing that we are fully stocked for the rest of our trip and we aren't going to be running around remote villages looking for items that locals have never even heard of. 
The kids did a great job jigsaw-stacking and organising the store… a second camera focused on them would have told a more complete story of provision day in the movie above…
Above centre; 600 teabags should get me back to Perth! plus x 35 bars of Lindt 85% chocolate…
We had picked a day to leave and all final preparations were complete. Full gas bottles, last minute fruit and veggie supplies, diesel, petrol, all rubbish removed from the boat, Tika clean, tidy and passage ready. We even had a passage meal in the fridge for the first night out. But the 3rd cyclone scared us off and we decided to sit tight and wait another 4 days. It was frustrating because we were sooo ready to go but we always try to make the conservative decision and so, sit and wait we did.
Our friends on S.V Ta-b put in the work of creating another radio net; The 'Magellan-Net'. We had been part of the 'Poly-Mag' (Polynesian-Magellan) net from the Galapagos Islands and had met many of the participating boats crossing the Pacific. Many more boats joined up for their upcoming ocean passages and we now have up to 35 vessels signed up to check in their positions every morning (with provision for an additional, evening, emergency-only contact schedule.) Russ has taken on being one of the net controllers which means he is running the net one day per week and has the responsibility of collecting positions and reports from boats on the list. Ta-b organised a social moment so that we could all meet up with all the Mag-Net sailors hanging out in Opua. When you are alone in the middle of the ocean, a radio net is like a facebook connection, a phone call from the ether, a security net, a vital information source and a social chat. It's often distorted, hard to hear and comes complete with radio beeps and interference but it's a connection all the same! It's nice to put faces to the voices we will be hearing every morning on our HF radio once we head off into the wild, blue yonder….
Above; some of the sailors participating in the Magellan radio net getting together for a pot luck at Opua before the fleet departed to various destinations in the Pacific islands.
Next post; Goodbye Opua! Farewell New Zealand! Our bumpy ride to Tonga!
This entry was posted in
The Sail
.