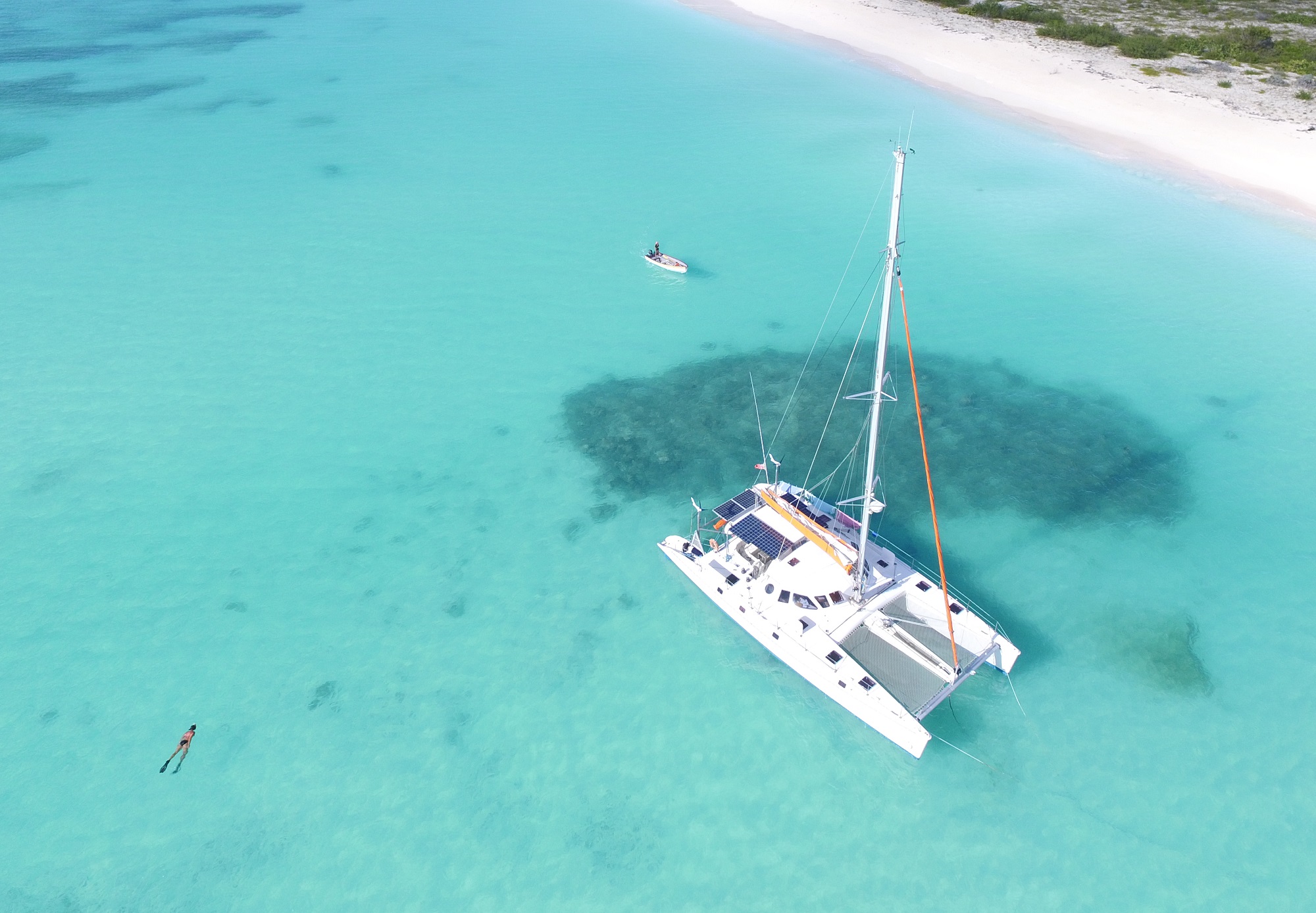 Technical Specifications
Hull #21, Outremer 55 Standard (owners version)

Length: 16.3m (55′)

Beam: 7.8m (25′)

Draft 0.8m (boards up), 2.2m (boards down)

Mast height: 20m (66′)

Sail Area

Main: 80 sq m

Jib: 40 sq m

Code 0: 120 sq m

Screecher 70 sq m

Engines: 2 x 54hp yanmar

Diesel: 2 x 220L

Water: 2 x 220L

Solar: 1300W

Watermaker: 24v Dessalator 100L/ hr (can be run off solar panels)

Wind: 2 x 400W Silent Wind 24V

Dinghy: Gig Harbour Maine Lobster Boat (customised to be 14'3″ to fit between our hulls)

Batteries: 700 Ah @ 24V of golf cart batteries (US Battery 2200's)

The story
S.V Tika is an Outremer 55 catamaran.  She is a remarkable boat for her combination of cruising speed, low draft and family comfort – who knew the three co-existed?
She has a unique, go-fast, "low slung" look. Most designs have moved to taller slab sided hulls to gain interior space, but we love the 2008 hull shape. It is the core of her low windage design – and that's what makes her fast and comfortable.
How we found Tika was a case of blind luck.  We knew next to nothing about catamarans when we had our offer accepted.  Many cruisers spend years sifting through yachtworld.com, sea-trialing and surveying until it is clear that their "perfect yacht" (otherwise known as a set of compromises) has presented herself.
That was not us.  Russ spent almost 2 decades convincing Greer that catamarans were unsafe, overpriced and over-hyped (speed-wise).  A conversation with a broker had us re-evaluate our options and consider a catamaran because of a less risky resale market.
Within 2 weeks, Tika presented herself in Panama and Russ was on a plane to help bring her back to the Carribean side of the canal for a haul-out and survey in Shelter Bay Marina.  The Outremer 55 ticked two simplistic criteria in Russ's mind:  Centreboards and running backstays (an extra line onto the mast to prevent the mast from "pumping").
We ended up with a boat that has exceeded our expectations in nearly every way.  She is self sufficient at anchor for power – enabling us to settle into stunning anchorages making water, doing washing (yes we have a washing machine aboard!) cooking and doing school without burning any diesel at all.  She is light and bright down below, thanks to the large hatches and side portholes.  She funnels wind straight in from the front through 2 large forward facing hatches in the saloon, Even in the tropics we have never felt the need for an air conditioner. In colder weather the cockpit is well protected from wind and there is complete protection in the saloon with very good visibility in all directions for watch keeping.
And to sail – she is pure joy.  Fast and controllable, we have never yet been forced to hand steer because she felt out of control.  Surfing the family home is a family sport with Kai often reading off the speed as you watch the bows throw spray high into the air while she happily accelerates to 18 and 19 knots.
On passage, we budget on 200 miles a day, in anything over 12 knots and use our speed to make the weather work for us.  In fact 10-14 knots of wind are our favourite conditions, as it usually means the sea state is very settled. Downwind Tika almost paces the waves and is extremely stable and comfortable.
With her centerboards, Tika also sails well to windward.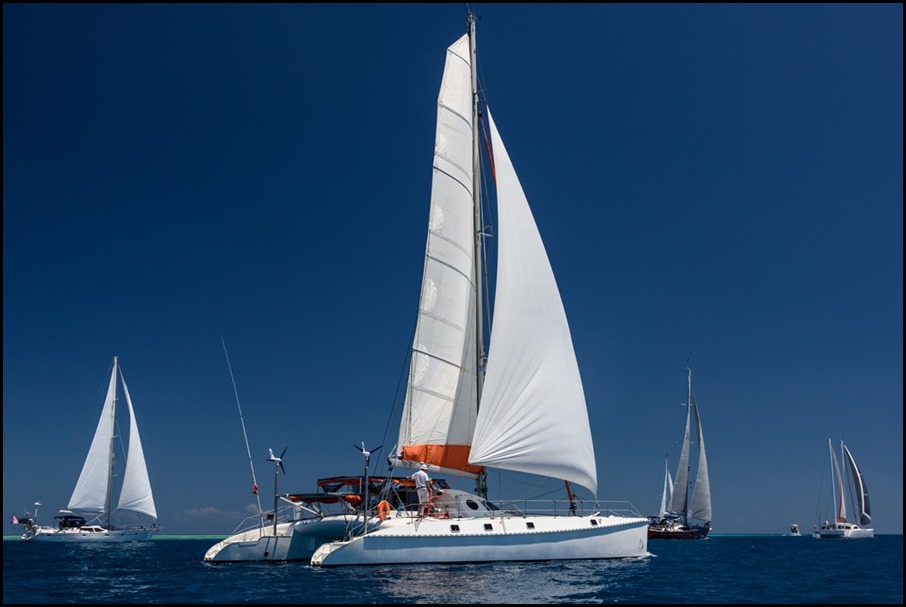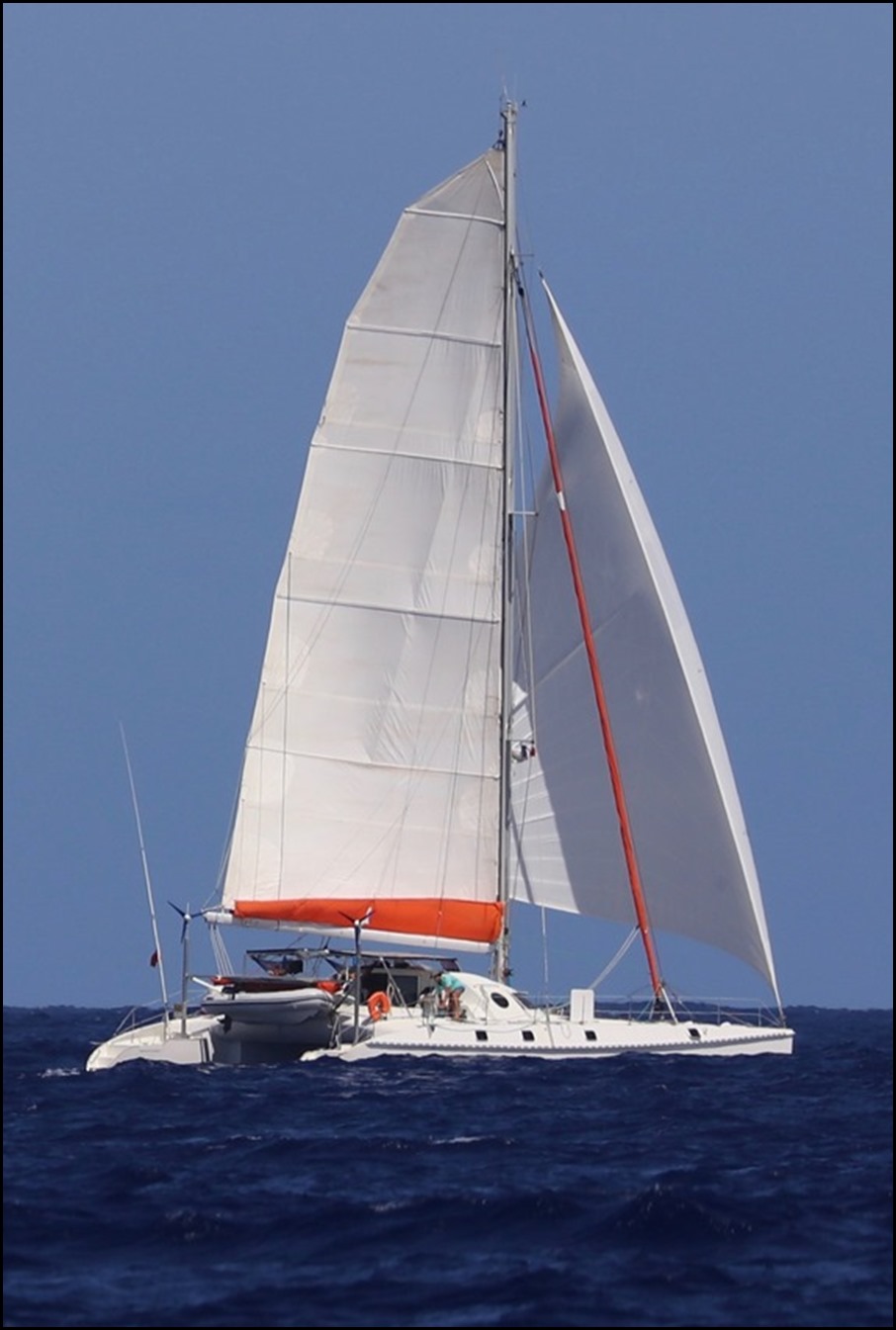 The Design Features we love (that we don't often see)
Mid-topside rub rail.  That aluminium rub rail that runs down the middle of each hull is useful for so many things; catching spinnaker sheets, stopping pegs from falling overboard, and, most importantly, it means we can rub up against jetties and wharfs without leaving ugly marks.  It also allows the boat to have side opening port holes all down each hull – which makes a world of difference to the feeling of space and ventilation in the hulls.  Modern designs seem to like the sleek look of sheer slab sided hulls.  The functionality of that mid way rub rail is brilliant – and also better for windage.

Low windage design.  We still haven't seen a cruising cat that has a slippery saloon shape like the older Outremer design.  Monohulls – the resistance is under the water.  Multihulls – the resistance is all about windage – why the new "condo cats" don't design for windage beats me.

Long, narrow hulls.  Tika has taught us a lot about design.  Like the principles don't change……ever.  Long and thin (like an efficient canoe) is the most efficient displacement hull.  You can never beat it.  Keep the sterns narrow and low volume, too, and you also get steering control at speed.

Bluff bows even with a super tight entry angle.  A good thick bow so you can lean against them as you try and get the boat off a jetty when 20 knots is pushing you on is so important on a cruising boat.  Doesn't look as good as the knife bows on a gun boat, but oh so practical (with negligible efficiency loss).

Shaft drives with a skeg in front of rudders and props.  She will dry out, resting on her skegs, but that is not their most important job.  When we hit something up the east coast of NZ, we felt a collective surge of gratitude that we had shafts driving our propellers, not sail drives.  The holes in the boat under the waterline are just that much smaller than the alternatives!

Solid fibreglass with vinylester until waterline, foam sandwich above waterline.  Makes for a good combination of strength and low weight.

4 separate watertight compartments in each hull.  The first 4 feet of bow is all crash bulkhead.

Good separation of living/ mechanical/ sailing systems.  The front sailing locker is cavernous and the engine rooms are spacious and, for a yacht, easy to access.
The layout